Scholarship for Welsh learners from Patagonia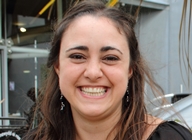 Grisel Roberts
An English teacher from Argentina, who has Welsh roots on her father's side of the family, has won the first scholarship for a Welsh learner from Patagonia to attend the Welsh Summer Course held at Aberystwyth University from 3-28 August 2015.
Grisel Roberts, who lives in Esquel, a town twinned with Aberystwyth, has been learning Welsh on courses in Patagonia since 1998, helped by visiting teachers from Wales. She has also helped other Welsh learners in Patagonia. 'I think it is very important that we learn a minority language, and take care of our cultural heritage,' says Grisel. 'Welsh is part of our culture.'
As she arrives at Aberystwyth University to study Welsh for the whole of August, her ambition is to speak Welsh fluently and correctly, as she wants to converse with other Welsh speakers and to teach Welsh to other learners. 'I love languages, grammar and linguistics,' says Grisel.
Aberystwyth University is offering the new scholarship to celebrate the 150th anniversary of the settlement of a Welsh community in Patagonia this year. The scholarship celebrates the relationship between Aberystwyth and Esquel in the Chubut region of Patagonia.
In 2014, there were 268 adults learning Welsh in Patagonia.
The flagship Welsh Summer Course is attended by some 80 learners each year. The course provides new skills for Welsh learners at all levels, from beginners to experienced learners, to improve their Welsh skills, and to take part in a wide range of social and cultural activities in Welsh.
AU25815