Aber alumni win two major Eisteddfod prizes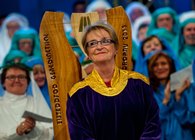 Manon Rhys, winner of the Crown at this year's National Eisteddfod Credit: Aled Llywelyn/Eisteddfod Genedlaethol Cymru
Two Aberystwyth University graduates have won two of the Eisteddfod's most prestigious prizes so far.
Manon Rhys graduated in Welsh at Aberystwyth and is the winner of this year's National Eisteddfod Crown.
The theme of this year's competition was 'Breuddwyd' (Dream) and the task was to create a collection of poems of up to 250 lines.
The adjudicators were Cyril Jones, Nesta Wyn Jones and Gerwyn Williams.
Cyril Jones said: "This collection made the reader feel uneasy, as it explores the no man's land between dream and nightmare.
"The style of poems manage to convey this with five of them punctuated and the other nine with no punctuation, with their tone swinging between more formal pieces and the dialect of south west Wales.
The National Eisteddfod Crown is one of the two biggest prizes at the Eisteddfod for poetry.
Mari Lisa graduated in Welsh and Drama, before being awarded an MPhil for her research on the Plygain tradition of Montgomeryshire. She is the Daniel Owen Memorial Prize winner this year.
The adjudicators were Robat Arwyn, Angharad Price and Dewi Prysor. Speaking of the winning novel, Robert Arwyn said, "We have nothing but praise for the winning work, which is a mystery novel, reminiscent of Dan Brown's Da Vinci Code. This is a novel which leads us on an adventure across Wales as the mystery hurtles back through the centuries to solve horrific events of the present day."
The Daniel Owen Memorial Prize is presented for an unpublished novel with a strong storyline of no less than 50,000 words. The prize is in memory of the Welsh novelist Daniel Owen, who died in 1895.
AU29515