Research-led teaching delivers NSS improvement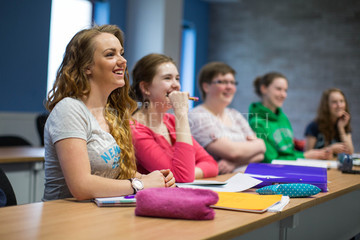 Internationally renowned research-led academic departments at Aberystwyth University have returned outstanding student satisfaction results according to the 2015 National Student Survey (NSS) which is published today, Wednesday 12 August.
Aberystwyth University's reputation in physical sciences, already well publicised through its space and glaciology research, was reconfirmed by stellar results in Physics and Geography programmes of 100% and 97% overall satisfaction respectively.
Programmes of the University's flagship International Politics department scored between 90% and 97% satisfaction for the quality of teaching.
In the Institute of Biological, Environmental and Rural Sciences, research-led biology courses - Biology, Genetics, Animal Behaviour, Animal Science and Zoology - all scored between 91% and 100% for quality of teaching, while showing substantial improvement for student feedback.
Other programmes which did exceptionally well were the vocational Childhood Studies programme, with 94% overall satisfaction, as well as our unique Tourism Management programme, with 92%. The University's European Languages programmes, with their strong emphasis on in-country learning and employability, achieved 90% overall satisfaction.
Overall, the NSS2015 shows the University has made excellent progress in key areas previously identified for improvement by students.
Satisfaction with Assessment and Feedback is up 5 percentage points and Organisation and Management up 4 compared with 2014.
Satisfaction with Learning Resources continues to rise, up for the second consecutive year, to 84% (80% in 2013). Also up are satisfaction with Academic Support, Personal Development and the Students' Union.
86% of Aberystwyth students responded that they are satisfied with teaching on their course and 83% said they were satisfied with their overall Aberystwyth student experience.
Professor John Grattan, Pro Vice-Chancellor for Student Experience and International said: "We are delighted with the results of this year's NSS which clearly show we have responded to what our students have been telling us. The dedication and commitment of our teaching staff are reflected in the results achieved, with 9 academic departments and 19 degree programmes outperforming the sector for teaching excellence, and some truly outstanding performances on individual courses.
"It is particularly rewarding to see satisfaction with learning resources continuing to rise. This summer sees the completion of a three year £8.1m investment programme to upgrade teaching and learning facilities on Penglais and Llanbadarn, and it is good to see these new facilities having a positive effect on our students' learning experience.
"One thing is clear; we won't be resting on our laurels. In the year ahead, in partnership with our students, we will continue to work to improve our teaching and the quality of the feedback our students receive and build on the excellent progress we have made this year.
"Coupled with the most recent assessment of research quality and excellent employability figures, Aberystwyth University is well on the way to restoring its reputation as one of the best places in the world to be a student."
The latest NSS results build on the University's performance in the 2014 Research Excellence Framework (REF2014) and significantly improved employability figures released by the Higher Education Statistical Agency (HESA) in July.
95% of the research activity submitted for REF2014 was of an internationally recognised standard or higher, with world leading research (4*) identified in all 17 of the Units of Assessment submitted.
Aberystwyth ranked second out of 126 higher education institutions (HEIs) for improvement in Employment Performance over the year (up 6 percentage points), and third out of 120 HEIs for improvement in numbers entering professional level work or graduate level further study over the year (up 9% points).
Aberystwyth University is currently investing over £100m in new facilities. The latest phase of the new £45m student residences on Fferm Penglais will open in September, offering some of the best student accommodation available in any university in the UK, and a major £8.1m upgrade to learning and teaching facilities will be completed in time for the new academic year, providing the latest multimedia technology in seminar rooms and lecture theatres.
Work is also about to commence on a new £40.5m innovation and enterprise campus at Gogerddan, and exciting plans are being drawn up to transform the Old College with an investment of up to £20m.
AU25715