Aberystwyth Geo-archaeology expert on Science Cafe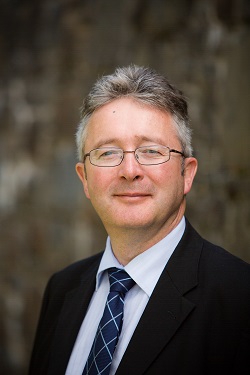 Professor John Grattan
John Grattan, Professor of Geo-archaeology and Pro Vice-Chancellor at Aberystwyth University will appear on this week's edition of BBC Radio Wales programme Science Café which will be broadcast on Tuesday 9 August at 6.30pm. You can listen here.
Professor Grattan joins presenter Adam Walton as they head out into the Cambrian Mountains near Cwmystwyth in search of a bronze age copper mine.
One of Professor Grattan's major interests is the emergence of industry in the ancient world. He's studied copper factory sites in the deserts of southern Jordan and he's exploring the way technologies, materials and expertise gradually spread from there to sites like the mid-Wales copper mine he and Adam are climbing towards. They also discuss the idea of the 'factory' predating the industrial revolution by many thousands of years and the environmental effects of these early factories, leaving a legacy of pollution which is evident even today.
Professor Grattan also discusses his other major research interest: the atmospheric effects - and health impacts - of volcanic eruptions. He has studied in detail the Laki Fissure eruption in Iceland in 1783 which was probably the biggest single pollution event in human history. It produced a sulphurous fog which killed a quarter of Iceland's human population and three quarters of its livestock. It's estimated that more than 20000 people died in England alone as a direct result of the eruption.