Aberystwyth student raises money for Cayman Islands animal charity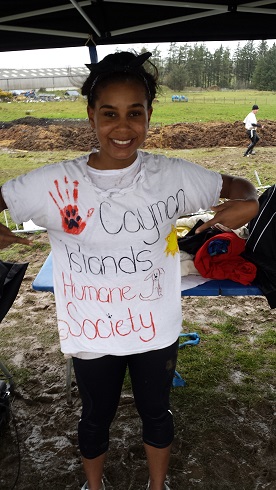 Melanie Moore competing in the Muddy Mountain obstacle course
Melanie Moore, a Caymanian BSc Animal Science student at Aberystwyth University has been fundraising for the Cayman Islands Humane Society.
She raised the money by participating in the gruelling 5 km Muddy Mountain obstacle course at Penrhyn-coch earlier this year.
Melanie, who hopes to train as a veterinarian once she has completed her studies at Aberystwyth University, has a long history of service to the Cayman Islands Humane Society. The charity provides homes and medical care to animals and is heavily involved in treating dogs suffering from heartworm – a parasitic roundworm spread via mosquito bites.
Melanie said that she was pleased to be able to help a charity in her home country: "I've always been actively involved with them over the years, volunteering and trying to help any way I can. Even though I am studying overseas, I strongly believe that charity starts at home."
Melanie's fundraising activity brought her to national attention in the Cayman Islands, as she was featured in the Cayman Compass newspaper, which highlighted her contribution as a volunteer at the Cayman Islands Humane Society.
Over the summer, Melanie is conducting research in the Cayman Islands for her dissertation project which aims to identify new vectors for heartworm in dogs. The research is part of a larger project involving the Institute of Biological, Rural and Environmental Sciences (IBERS) at Aberystwyth in collaboration with Dr Alan Wheeler of the Mosquito Research Centre in Grand Cayman.
Melanie has been a committed volunteer for a veterinary practice and the Department of Agriculture in the Cayman Islands for a number of years. Commenting on her dedicated service, Dr Bush of Island Veterinary Services, who has mentored Melanie for the past six years, said: She's been a really great part of our clinic and we've seen her grow into this really poised, intelligent young woman."