One of Aberystwyth's best-loved historic buildings takes part in Open Doors 2015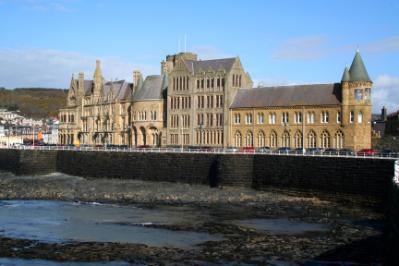 Aberystwyth University is delighted to invite local people and visitors alike to discover more about the Old College as part of Open Doors 2015 on Saturday 12 September.
Part of the European Heritage Days programme, which takes place in 50 countries across Europe, Open Doors is the largest volunteer event in the heritage sector in Wales.
The Old College is a Grade I listed building located on the seafront in Aberystwyth. With castellated towers and gargoyled parapets, this iconic building is the birthplace of University scholarship in Wales and one of the UK's most significant 19th century buildings.
Originally built as a hotel by railway contractor Thomas Savin, the Old College was purchased by the Welsh University committee for £10,000 in 1867, a fraction of the amount it had cost to build. The first students arrived in October 1872.
The University is currently planning to transform the building into an integrated centre of heritage, culture, learning and knowledge exchange at the heart of a new cultural quarter in the historic centre of the town. It will provide unique opportunities and benefits for the University, the local community, the region of Mid Wales and Wales.
Plans include a museum, art gallery space, shop and restaurant/café. Artist tenancies, functions and room hire for community groups are also intended to form a part of the new life of Old College. The proposals extend beyond the Old College itself and include developments for The Assembly Rooms and other University buildings in the area.
The total project could mean a multi-million pound investment phased over the years up to an official opening during the University's 150th anniversary in 2022.
Dr Rhodri Llwyd Morgan, Pro Vice Chancellor said: "We are delighted to be involved in Open Doors 2015. This is a fantastic opportunity to explore and enjoy the stories behind Old College. Join us on one of the informative talks to learn more about the history of the building and discover more about the exciting proposals for the regeneration. Visitors will also be able to enjoy a selection of work by our artist in residence, Mary Lloyd Jones, one of Wales's most distinguished and highly acclaimed visual artists."
More information about the event can be found here.