Professor David Andrew Trotter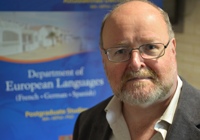 Professor David Trotter
It is with great sadness that we report the death of Professor David Andrew Trotter, who died on Monday 24 August, aged 58.
Professor Trotter was head of the Department of European Languages.
Professor Trotter graduated as a Doctor of Philosophy from Queen's College Oxford, and was one of the country's leading Anglo-Norman specialists. After working as Laming Junior Fellow at The Queen's College, Oxford, he moved to the University of Exeter in 1985 where he taught the linguistics of modern French whilst being responsible for all medieval work in the Department of Modern Languages.
He was appointed to the position of Chair of French at Aberystwyth University, commencing in October 1993 when he also took on the additional duties as Head of Department. He fulfilled the role of Dean of the Faculty of Arts between 1996 and 2000 and continued as Head of Department for the whole of his period at Aberystwyth University.
Professor Trotter's research spanned historical French linguistics, medieval French, historical dialectology, especially eastern French. He also led the Arts and Humanities Research Council (AHRC) funded Anglo-Norman Dictionary which is based here at Aberystwyth University.
He was President of the Société de Linguistique Romane (2013-16), a contributor (on Occitan) to the Romanische Bibliographie (De Gruyter), a member of the Peer Review College of the AHRC and a Strategic Reviewer for the AHRC.
He was one of the editors of the Journal of French Language Studies (CUP), and served on the advisory boards of Romance Studies, Zeitschrift für romanische Philologie, Revue de Linguistique romane, Quaderni di Filologia Romanza, Revue Internationale de Linguistique Française, and the Winter Verlag (Heidelberg) series of Romanische Texte des Mittelalters.
Paying tribute to Professor Trotter, Professor April McMahon said: "Professor David Trotter's untimely death represents an enormous loss to research and scholarship. He had an outstanding and well-deserved reputation as a historian of French, and was especially well-known for his Anglo-Norman Dictionary project, which won considerable funding and recognition.
"However, those of us who worked with him at Aberystwyth University, where he was one of our longest-serving Heads of Department, will miss David the man even more than David the researcher. He had a wonderful turn of phrase, could liven up the dullest of meetings in sometimes interesting and unpredictable ways, and was always wise, frank and supportive.
"Our thoughts are with his family and close friends; but I and his colleagues and students will also miss him tremendously".
Professor Trotter's funeral will take place at 11am on Tuesday 1 September in Holy Trinity Church, Trinity Place, Aberystwyth. All are welcome.
AU28015