Aberystwyth graduate joins Ice Warrior Project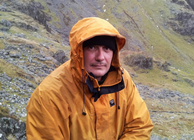 Lee Edgington
Aberystwyth University graduate Lee Edgington has been selected to take part in an ambitious polar expedition to be the first to reach the Northern Pole of Inaccessibility.
Lee, from Newtown Powys, graduated in Psychology in July 2015 and is joining the Ice Warrior Project which is led by Jim McNeill, one of the world's most experienced and respected explorers.
Also known as the Arctic Pole, the expedition will set off for the Northern Pole of Inaccessibility in February 2016.
Defined as the furthest point from land on the Arctic Ocean and therefore its centre, the Northern Pole of Inaccessibility remains the last truly significant place in the Polar Regions, yet to be reached by mankind and is over two hundred miles further than the Geographic North Pole.
It is a journey of over 800 miles from the northern shores of Canada taking in the North Magnetic Pole, crossing treacherous sea-ice in one of the most inhospitable environments on Earth.
Having been selected for the Ice Warrior Quest for the Inaccessible Pole, Lee is undergoing a comprehensive and intensive training programme to take on at least one of four 20-day legs, pushing the route across the Arctic Ocean by approximately 200 miles.
Along the route team members will be gathering "crucial datasets" for the scientific community including new and vital data about how the sea ice breaks up, making the whole endeavour a major citizen science project.
Partners include the NASA funded National Snow and Ice Data Center (NSIDC) scientists, The Met Office, The Scott Polar Institute, The Norwegian Polar Institute and the Russian Arctic and Antarctic Research Institute. This vital data will deliver the reality of climate change and make the whole expedition worthwhile and purposeful.
Lee said: "I can't describe how excited I am to have been selected for the team. Until now, being part of something of this magnitude was only something I could dream of. I am immensely proud to be involved with the project and to be contributing positively to the issue of climate change.
"On a personal level, having graduated this year at Aberystwyth University with a degree in psychology, the expedition provides a perfect opportunity which encompasses my passion for outdoor adventure and true citizen science.
"Of course, I'm aware of the dangers associated with polar exploration. Facing frigid temperatures that can freeze flesh in seconds, an ocean that can swallow us up, and polar bears that will be active in hunting us are just some of the dangers we will face.
"I have every confidence however that with Jim's training and leadership we are in the best possible hands. With meticulous preparation, great team work, steely determination and massive reserves to success, I am confident that we will pull it off."
Expedition leader Jim McNeill said: "I'm delighted to have Lee in the expedition team and look forward to training him in every aspect which will make him a competent polar traveller."