Cycle to Work Day, Thursday 3 September
28 August 2015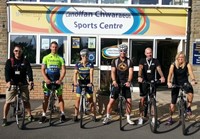 Left to Right: Aberystwyth University Sports Centre staff members Darren Hathaway, Rich Martin, Tia Woodward, Jeff Saycell, Neil Coleridge and Lauren March took part in the Cycle to Work Day in 2014.
Staff at Aberystwyth University are being encouraged to cycle to work on Thursday 3 September to mark Cycle to Work Day.
The University is promoting Cycle to Work Day as part of its Health and Wellbeing at Work programme and everyone who takes part will be treated to a free drink in one of the University's cafes.
Cycle to Work Day also offers staff whose bikes may be in need of some love and attention a free bike check at a local bike shop.
And for those who would like to invest in a new bike, Aberystwyth University offers a Cycle Scheme where members of staff can lease a bike, with a view to buying it at a reduced rate after 18 months.
Payments terms for the Cycle Scheme have now been extended to 18 months from 12 months, reducing the monthly payments and making it more affordable.
There will also be an opportunity to learn more about what cycling facilities are available at the University and in the local area as the University hosts a number of information stalls between 12 and 2 on the day in Penbryn, on the Penglais Campus.
Jackie Sayce, Cycle to Work Day co-organiser at Aberystwyth University, said: "Cycling to work is an excellent way to save money on fuel and transport costs in addition to improving your health and fitness. So dust off your bike, don your helmet and schedule some ride-time in your diary!"
"As well as the health, economic and environmental benefits of cycling to work, we are encouraging everyone to pledge their cycling miles on the day to the national campaign to get more people cycling, for a chance to win a brand new Claud Butler bike."
Co-organiser Jeff Saycell, from the University's Sports Centre added: "Aberystwyth is rapidly establishing itself as an important centre for cycling and it'll be great to see staff taking part in this initiative. We have seen an increase in the number of people attending our excellent Spinning classes recently, and attending the gym to ride our Watt Bikes, which are a fantastic training aid, and also endorsed by British Cycling".
AU28215
Back to the top
Contacts
Jackie Sayce
Institute of Geography, History, Politics and Psychology, Aberystwyth University
01970 622212 / jqs@aber.ac.uk
Jeff Saycell,
Aberystwyth University Sports Centre
01970 622279 / jrs@aber.ac.uk

Arthur Dafis
Communications and Public Affairs, Aberystwyth University
01970 621763 / 07841 979 452 / aid@aber.ac.uk