Scientists invite young farmers to assist in research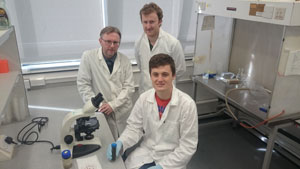 The Wales rumen and liver fluke project team at IBERS: Professor Peter Brophy, Dr Hefin Williams and PhD student Rhys Aled Jones
Scientists at Aberystwyth University's Institute of Biological, Environmental and Rural Sciences are inviting young farmers in Wales to play their part in cutting edge agricultural research projects.
The aim of this new and exciting initiative is to engage young people in research that could be of benefit to them at farm level, whilst assisting the researchers at the University to conduct research of wider value to the industry.
Dr Hefin Williams a Lecturer in the Agricultural Environment with Coleg Cymraeg Cenedlaethol at IBERS said: "We are launching this initiative at the Wales YFC AGM in Aberystwyth this weekend with the aim of working closely with young farmers to enhance their skill set, and enabling them to understand and then adopt some cutting edge methods resulting from our research, in agriculture and the allied industries."
This new initiative is enabled by funding from the Coleg Cymraeg Cenedlaethol, and a Dr Owen Price scholarship and will kick off with 'The Wales rumen and liver fluke project'.
Liver fluke is one of the biggest problems facing the UK livestock industry, estimated to cost £300 million annually, whilst rumen fluke is an emerging problem in the UK and information on its prevalence in Wales is very scarce.
IBERS scientists are seeking farms to take part in the study through a questionnaire, a faecal egg count test for livestock and a free assessment of mud snail habitats on the farm to identify high risk infection areas for livestock.
Ceri Davies, Wales YFC Rural Affairs Chairman commented: "We are pleased to be working with scientists at the world recognised Institute at Aberystwyth University which provides us with the opportunity to work together making good use of the latest research to equip us as the next generation of farmers in Wales to deal with the liver and rumen fluke burden on our farms".