Celebrating lifelong learning success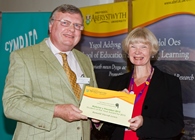 Ron Lewis, Carmarthen, winner of the Lifelong Learning Student of the Year Award, presented by Professor April McMahon, Aberystwyth University Vice-Chancellor at the Awards Ceremony held at Aberystwyth University on 21 October 2015.
The lifelong learning success of individuals and groups was celebrated in a special ceremony at Aberystwyth University on Wednesday 21 October 2015.
The awards were presented by Aberystwyth University Vice-Chancellor, Professor April McMahon.
Professor McMahon said: "It is a great pleasure to celebrate the success of our Lifelong Learning and Welsh for Adults students. As a learner of Welsh myself, I am particularly keen to recognise the efforts our students put into learning and using the language, and the support colleagues provide for them. However, it is very special to see work and reward achievements across such a wide range of subjects".
The following awards were presented:
Welsh in the Family Award
Details: An award for Welsh learners from Mid Wales who have increased the use of Welsh within the family.
Winner: Stephanie Windsor-Lewis
Stephanie is an opera singer living in Pennal, near Machynlleth. She has been learning Welsh in Aberystwyth for only one year. She enjoys practising her Welsh with her young son Jack Robin. She reads Welsh books and sings Welsh nursery rhymes to him. She has set herself a challenge to sing a piece in Welsh in a concert in December.
Welsh in the Workplace Award
Details: An award for employers who support their staff to learn Welsh on Welsh for Adults courses in Mid Wales.
Winner: Mid Wales Housing, Newtown, Powys
Two Mid Wales Housing directors are attending Welsh evening classes, 15 staff members attend monthly sessions in the workplace, and two are attending beginners courses. The employer supports learners to attend courses free of chare, and provides work time to attend courses. One of the Mid Wales Housing board members is a Welsh language champion, and the board supports and acknowledges all the efforts to learn and use Welsh. As a result, the Association is able to provide a better service to Welsh-speaking customers, and staff have greater confidence to engage with the public.
Welsh Group of the Year Award
Details: This award celebrates the success of a group that has brought Welsh speakers and learners together in activities to use and promote Welsh.
Winner: Siop Cynfelyn@Cletwr (Cwmni Cymunedol Cletwr) from Tre'r Ddôl, Ceredigion
Since running a short course for shop workers at the start of 2014, Siop Cynfelyn@Cletwr has extended its Welsh activities in order to bring Welsh speakers and learners together to use Welsh. They want the language to be visible and audible to customers and to those who travel through. They hold many regular activities, including 'Dal ati /Welsh chat' – a monthly chat and cuppa on a Saturday morning; Amser stori (story time) – every second Thursday afternoon – for parents with small children and babies, and a montly since June 2015. They have watched Un Nos Ola Leuad, Solomon a Gaenor, and Hedd Wyn. Welsh learners take part naturally, aided by subtitles.
Lifelong Learning Student of the Year
Winner: Ron Lewis, Carmarthen
Having retired after a 42 year career as a television journalist, Ron decided to turn his sights to creative writing. He has been travelling weekly from Carmarthen to Aberystwyth to attend creative writing courses. ''It's been a delight to let loose my creative side and be set free to write without inhibitions,' says Ron. 'The tutors have provided the grounding I needed for acceptance on a full-time BA course in Lampeter, where I'm looking forward to studying the literature I missed nearly fifty years ago and hoping to gain some of the skills needed so that I might become a published author of fiction.'
Lifelong Learning Tutor of the Year
Winners: June Forster and Tereska Shepherd
June Forster is an art tutor, and she began her journey to become an artist in 1996 when she attended an Aberystwyth University drawing course in Ystrad Meurig. She then took a course at Coleg Ceredigion, and gained a BA and MA at the School of Art at Aberystwyth University. 'I have learnt a great deal from my students over the years,' says June. It is thanks to them and to the generosity of my own tutors along the way that I have had such an interesting, enjoyable and rewarding journey.' A number of June's ex-students have formed a painting group to exhibit called the 'Solstice Painters'.
Tereska Shepherd teaches watercolour and natural history illustration courses in locations as widespread as Oswestry and Cardigan. The external examiner praised the link that she makes between art and sicence. Her students praise her as an inspirational tutor. 'She obviously loves her subject and is friendly, generous with her knowledge, sharing skills and encouraging everyone,' says one of her students. 'If teaching is a gift, she truly possesses the gift in abundance!'
AU34515