Consultation launched to seek opinions on Welsh-medium student accommodation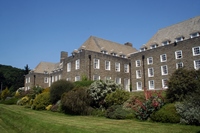 Pantycelyn
A consultation has been launched to seek opinions on the type of accommodation and social space that will meet the demands and needs of Welsh-medium students at Aberystwyth University for the next forty years.
This follows the appointment of Old Bell 3 by the Pantycelyn Project Board to undertake an independent consultation of what people would like to see in a designated Welsh accommodation.
The first stage of the consultation will be a questionnaire developed by Old Bell 3. The questionnaire opens today, Tuesday November 10, and will be open until Monday 30 November to anyone who wishes to contribute. The questionnaire is online here https://www.snapsurveys.com/wh/s.asp?k=144714907590.
In addition to the questionnaire Old Bell 3 will undertake an extensive consultation with current students, prospective and former students, University staff and the wider community.
It is also possible to contribute to the consultation by submitting general comments by email to pantycelyn@oldbell3.co.uk, or by phone on 07805 265 158.
Gwerfyl Pierce Jones, Chair of the Project Board Pantycelyn said: "From the outset, Board members have been clear of the need to commission independent research on the nature of the provision of accommodation and social space that is likely to meet the expectations of Welsh speakers here at Aberystwyth University for the next 40 years.
"Following a competitive process, I am delighted that Old Bell 3, a company which has an office in Llandeilo, has been appointed to undertake this important work.
"Aberystwyth University is fully committed to providing Welsh-medium accommodation and social space, and I hope that everyone will contribute to the discussion as we seek to build on the achievements of Neuadd Pantycelyn and develop exciting plans to accommodate the needs and expectations of the next generations of Welsh-medium students."
The evidence gathered by Old Bell 3 will be presented to the Pantycelyn Project Board before Christmas. The Project Board will use the results of the research to prepare a design brief for state of the art Welsh-medium accommodation and social space, and consider how the design can be realized in Neuadd Pantycelyn, before agreeing on a final report by April 30, 2016 which will be presented to the University's Council by the end of the academic year.
Pantycelyn Project Board
The Pantycelyn Project Board was established to oversee the development of a design brief for the provision of state of the art accommodation and social space of Welsh medium students at Aberystwyth University.
The Board was established following a decision by the University Council in June to approve a resolution that underlines the University's commitment to the Welsh language and culture, and to provide designated Welsh medium accommodation within the University.
Further information about Pantycelyn Project Board, including the resolution of Council that led to its establishment, membership and terms of reference are available here https://www.aber.ac.uk/en/university/pantycelyn/.
AU36015