Philanthropy award for Aberystwyth alumnus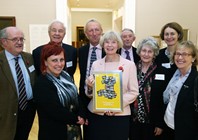 Celebrating the awarding of the Community Foundation in Wales Philanthropy Award to AU alumnus and benefactor Peter Hancock are AU alumni and staff (left to right) Dr Martin Price, Cathy Piquemal, Dr Hywel Ceri Jones, Steve Lawrence, Professor April McMahon, Stuart Owen-Jones, Dr Susan Davies, Louise Jagger and Kay Powell.
Aberystwyth University alumnus Peter Hancock has been awarded a Community Foundation in Wales Philanthropy Award.
The award was presented at the Community Foundation in Wales Annual Philanthropy Reception & Awards which were held at the National Museum of Wales, Cardiff on Tuesday 10 November.
Peter Hancock, who lives in New Zealand, was unable to attend in person; hence the award was received on his behalf by Professor April McMahon, Vice-Chancellor of Aberystwyth University.
In October, Peter and his partner and fellow Aberystwyth University alumna, Pat Pollard (nee Trevitt) funded a major new scholarship fund at Aberystwyth University, in gratitude for a scholarship he was awarded 50 years ago, when he was a student here.
Known as the Peter Hancock Need & Merit Scholarship Fund and endowed to the tune of £506,000, the scholarship will be open to 'deserving, meritorious, in-need Year 2 Honours students or equivalent in any discipline and of any nationality and who show potential to benefit society through the successful completion of their Honours Degrees or equivalent.'
Speaking at the time of establishing the fund, Peter said: "The key element in making this gift is to give something back to student life and the university that over 50 years ago gave me so much academically, socially and in developing my leadership and business skills. At the same time, I hope it will make a difference through providing scholarships for in-need, promising students to enable them to commence rewarding careers that contribute to society and so, in turn, help others."
Speaking at the Awards ceremony, Professor April McMahon said: "It is a real privilege to be here with colleagues and students from Aberystwyth University, accepting a Community Foundation in Wales Philanthropy Award on behalf of our alumnus, benefactor and friend, Peter Hancock.
"Peter is extremely clear that one of his main motivations in setting up this fund is to encourage others to give. He believes strongly that the professionally and financially rewarding career he has enjoyed as an engineering and exploration geologist was enabled by a scholarship provided through the University, without which he would not have been able to complete an honours degree – hence the focus of the Fund on supporting 2nd year students to finish their degrees successfully.
"Peter's words are inspiring, and I know our students feel this too. And what's more, his gift fits impeccably well with the University's priorities of student success, excellence, and working to support and retain students from many different backgrounds.
"I thank you for your recognition of Peter and Pat's generosity and ambition; and it is my very great pleasure on behalf of Aberystwyth University to accept the Philanthropy Award for Peter Hancock."
AU36215