Children's author appointed as new RLF Writing Fellow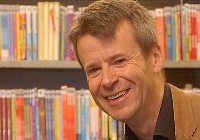 The author Jon Mayhew
The writer Jon Mayhew has been appointed the new Royal Literary Fund (RLF) Writing Fellow at Aberystwyth University. In this role he will be available to help students improve their academic writing, to appraise initial drafts and offer constructive advice.
Published by Bloomsbury, Collins, and Oxford University press, Jon writes adventures for children, teenagers and young adults. His Victorian gothic adventure, Mortlock, was shortlisted for the Waterstones Children's Book of the Year and won the Leeds, Calderdale, Sefton and Warwickshire children's book awards. His second book, The Demon Collector, won the Wirral Paperback of the Year. Jon's works regularly appear on regional prize lists up and down the United Kingdom.
According to Jon: 'Children and young people are a demanding audience and to connect with them, you have to write well and communicate complex ideas in a simple way. My audience are not impressed or fooled by flowery prose and neither are your tutors!
'It's great when something 'clicks' in the structure or flow of an assignment and it's rewarding to hear when grades have gone up! Of course, many students just need a second pair of eyes to glance over an initial draft to give them confidence and that's rewarding too.'
Jon has also contributed articles and pieces about writing for children to various publications including The Children's Writers' and Artists' Yearbook (Bloomsbury).
A teacher for twenty five years, Jon is passionate about encouraging writers and readers of all ages and abilities. He delivers writing workshops in schools and literary festivals, and is a Patron of Reading for two high schools. This new role at Aberystwyth is a challenge he relishes.
Jon lives with his family on the Wirral Peninsula. Traditional ballads and tales have long been the compost for Jon's imaginative roots. He loves traditional music and song and plays mandolin in ceilidh bands. He is currently working on a standalone novel about a girl with epilepsy, weaving strands of Welsh border mythology and the Mabinogi and hopes that his time with the RLF at Aberystwyth University will help him deepen his knowledge and appreciation of these influences.
To book an appointment with Jon e-mail him at writers@aber.ac.uk
AU37315