Professor Paul Ghuman wins British Psychological Society award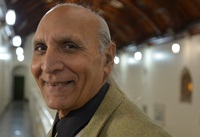 Professor Emeritus Paul A. Singh Ghuman
Professor Emeritus Paul A. Singh Ghuman from the School of Education and Lifelong Learning Lifelong at Aberystwyth University is to receive the British Psychological Society's (BPS) 2015 Award for Promoting Equality of Opportunity.
Professor Ghuman joined the University in 1971 and was appointed Head of the Department of Education in 2000, a post he held until his retirement in 2003.
The award, conferred by the BPS Ethics Committee, recognises a person whose work as a psychologist has made a significant contribution to challenging social inequalities in the UK.
Professor Ghuman's research projects have focused on the field of education of minority children, which have included: social and educational adjustment of Asian young people in the UK, North America, and Australia; child-rearing practices of Punjabi families; Welsh children's bilingualism and cognitive development; and the predicament of orthodox Bhattra Sikhs in Cardiff.
A chance encounter with a Dalit parent in Birmingham led him to his most praised piece of work; his research on the socio-educational adjustment of Dalit children, a group of people once referred to as Untouchables (Achute) in India, who face discrimination from upper-caste Asians as well as racism from the wider society.
His work, British Untouchables: A study of Identity and Education, attracted very good reviews from national journals and the support of Dalit associations in the UK for his efforts to bring to public attention the caste prejudice and discrimination amongst Asians.
The British Journal of Educational Studies commented that Professor Ghuman "should be congratulated for undertaking such a brave venture for such exposure could result in rejection from the very communities he is studying".
Professor Jamie Hacker Hughes, President of the British Psychological Society, said: "The British Psychological Society considers this Equality of Opportunity Award as one of our most important awards combining, as it does, recognition of academic excellence in combination with its practical application. These are exactly the grounds on which this award has been made to Professor Paul Ghuman for his work on Asian minorities and the caste system, with its significant potential impact on public policy and legislation".
Professor Ghuman commented: "I am delighted to learn that the BPS has recognised my contribution to promote equality of opportunity in the fields of 'gender' and 'caste' within Asian communities, and 'race' more widely. I wish to express my sincere thanks to my former students, colleagues and Aberystwyth University, who have sustained my interest over 45 years'.
Professor Ghuman has been invited to deliver an Award lecture at the British Psychological Society's Annual Conference 2016 and to accept a commemorative certificate.
AU36515