Companies get a glance of the proposed new innovation and enterprise campus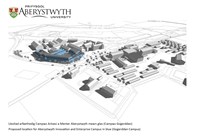 Proposed location for the Aberystwyth Innovation and Enterprise Campus (AIEC) at Gogerddan
An event focused on Funding and Facilities for Innovation was recently held at Aberystwyth University providing companies with an early preview of the progress being made towards turning the £40.5m investment in a new Innovation and Enterprise Campus into reality.
The event, which took place on 19 November saw more than 30 different companies attending, from local food manufacturers to multinational agri-tech businesses. It provided delegates with an early engagement opportunity to explore how the proposed developments can support and contribute to their specific business growth aspirations.
Opened by Professor Chris Thomas, Pro-Vice Chancellor for Research at Aberystwyth University, one of the main purposes of the event was to share how a combination of scientific excellence, state of the art facilities and new funding packages could drive innovation and growth within the food, health, agri and biotech industries. It also provided an opportunity for delegates to contribute and shape future provision to maximize the potential for entrepreneurial activity.
Speakers at the event included Huw Watkins, Project Director of AIEC who outlined the possibilities for facilitating growth at Aberystwyth Innovation and Enterprise Campus and Professor Jamie Newbold, Director of Research at Aberystwyth University's Institute of Biological, Environment and Rural Sciences (IBERS) who provided an update on IBERS' Research Strategy. Presentations were also given by Welsh Government representatives who provided information on the SMART Funding suite for Innovation in Wales.
The event concluded with an 'Ask the Panel' open floor discussion, providing delegates with an opportunity to ask any burning questions arising from the mornings' activities. Reflecting on the event, Huw Watkins said: "Significant progress has been achieved since the investment was secured nearly a year ago and we felt it was timely for us to share some of that information with companies who are likely to benefit from the project. This was the first of many such events designed to raise awareness and encourage early engagement".
Dr Jonathan Hughes from Pennotec attending the event added that "the single site AIEC facility could foster closer engagement between green technology companies with producers and product end-users in our agri-food and health sectors".
The proposed footprint for the Innovation and Enterprise Campus at Gogerddan on the outskirts of Aberystwyth has been formally approved by the Project Board, and next steps will include further design development, obtaining planning approval and procurement of a main contractor. A proposed supply chain event will also be held in the Spring of 2016.
The Aberystwyth Innovation and Enterprise Campus has been funded by the European Regional Development Fund, through the Welsh Government; by the Biotechnology and Biological Sciences Research Council (BBSRC) and by Aberystwyth University.
One of the existing buildings on the Gogerddan site has already been refurbished to a high standard and provides over 300m2 of rentable office accommodation. The facility has been modernised to cater specifically for companies wishing to get closer to the world leading research excellence undertaken by scientists at IBERS.
In December 2014, Aberystwyth University announced that it had secured £20m investment from the European Regional Development Fund, through the Welsh Government, £12m investment from the Biotechnology and Biological Sciences Research Council (BBSRC) as well as £8.5m University funds.
AU38015