Robyn Munn joins Tir na n-Og judging panel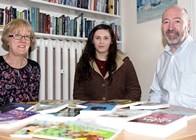 L-R Joanna Jeffery, Teaching Fellow at Aberystwyth University, Robyn Munn and Elwyn Jones, Chief Executive, Welsh Books Council
Robyn Munn, a student of Education and History at Aberystwyth University, has been selected to join the panel of judges for the 2016 Tir na n-Og children's books awards.
Robyn recently won a competition for the position of student judge on the panel for the best English-language children's book set in Wales.
The Tir na n-Og Awards are held annually and presented by the Welsh Books Council.
Responding to the announcement, Robyn said: "It feels like Christmas. It will be hard work but I can't wait to start reading."
This is the second year that students from the School of Education and Lifelong Learning have competed for this position.
Entries for the competition were strong and followed a visit from Anwen Francis, author of the Siani Shetland books, and the Children's Books and Reading Promotion Officer with the Welsh Books Council, and advice from last year's student judge Jordan Thorpe who is studying Mathematics and Education.
Students on the modules Llythrennedd mewn Plant Ifanc and Literacy in Young Children were invited to submit a review of a book, using the Welsh Books Council's Guidelines.
Joanna Jeffery, who co-ordinates the modules, was delighted at the depth of analysis and strength of feeling shown by students in their applications.
Students' entries were judged by Dr Liz Jones, Creative Writing Co-ordinator for Lifelong Learning at Aberystwyth University.
Dr Jones said in her adjudication: "This application conveys a real enthusiasm for children's literature, as well as experience as a writer. The review is thorough and sensitive and leaves us with a vivid description of how the book would look and feel. An impressive application."
Mr Elwyn Jones, Chief Executive of the Welsh Books Council, presented Robyn with a selection of the books she will have to evaluate before the shortlisting panel meets in the new year.
Mr Jones said: "We have a student from Cardiff University on the Welsh judging panel and we're pleased that we are able to continue working with Aberystwyth University in finding a judge for the English panel."
Judging for the 2016 Tir na n-Og awards gets under way in January 2016. The winners will be announced at the Chartered Institute of Library and Information Professionals conference in June 2016.
AU34915