Founders Day celebrated by London based alumni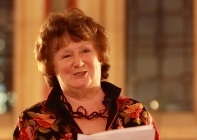 Aberystwyth University Honorary Fellow and alumna Baroness Kay Andrews, addressing the inaugural Founders' Celebration and Giving Circle
Aberystwyth University alumni based in London joined Honorary Fellow and alumna Baroness Kay Andrews, Vice-Chancellor Professor April McMahon, and Director of Development and Alumni Relations Office Louise Jagger for the inaugural Founders' Celebration and Giving Circle on Friday 27 November.
143 years ago, on 27 November 1872, London based Welsh benefactors and supporters of the fledgling university marked the opening of the college in Aberystwyth with "great cheerfulness and hopefulness for the future success of the College" (College by the Sea, Ewan Morgan p16) and it was no different this time.
At a sold out event on the Grand Staircase of the St Pancras Renaissance Hotel all gathered and did indeed celebrate with great cheer and hope for Aberystwyth University's future.
The story behind this landmark date in the history of education in Wales is unique, and the result of a wave of popular support, public imagination and individual generosity. The dinner held in 1872 at the City Terminus Hotel, Cannon Street, London was mirrored this year in the magnificent St Pancras Renaissance Hotel.
Honorary Fellows Baroness Kay Andrews and Ed Thomas, Creative Director and Executive Producer of Fiction Factory (producers of Y Gwyll/Hinterland) Steve Lawrence, the Old Students' Association President and Janet Lewis-Jones, Chairman of the Community Foundation in Wales, joined Vice-Chancellor April McMahon to encourage support for Aber through engaging, enjoyable and thought provoking speeches.
As part of the evening alumni and friends were invited to join in helping students in three specific ways: reducing hardship, promoting welfare and wellbeing, and creating more opportunities for students' employability and prospects.
The Student Hardship Fund, which is wholly funded by Aber Alumni, supports students who face unforeseen financial difficulties or emergencies and acts as a portal for advice, guidance and as a safety net for those most in need.
Whilst financial support is important, the University is also committed to the welfare and wellbeing of its students. Under a new collaborative project between the University's Student Support Services and the Sports Centre, exercise opportunities and support will be available alongside the regular counselling and wellbeing services to support students who find themselves contending with stress, anxiety or depression.
The third project seeks to increase opportunities for students, in this case for those in subjects that lead to work in the highly competitive creative industries. The Creative Initiative and Industry Access Fund will provide small bursaries for travel and accommodation for students to attend placements, raising their aspirations and confidence, and developing their professional and personal skills.
Professor April McMahon, speaking on the evening said: "The establishment of Aberystwyth University is one of the great romantic, indeed heroic, stories of modern Welsh history. As the birthplace of university scholarship in Wales, we are immensely proud of our heritage and thank everyone who has helped us to celebrate and build upon the philanthropic foundations that have underpinned our history."
Louise Jagger, Director of Development and Alumni Relations Office said: "Such was the popularity of this event and the opportunity to support students that tickets were sold out, and the original fundraising target was met two weeks early.
"Not only did this enable all the projects to proceed, but offer more than we could have hoped thanks to the generosity of alumni who made additional gifts in the run up to, and on the evening. We thank you warmly for your very generous donations!
"We were delighted to work as partners with the Community Foundation in Wales, which promotes and manages philanthropy in, and into Wales, and the Pears Foundation who pledged to match all donations pound for pound, up to a total of £5,000."

AU38515