The Bridge detective Saga Norén name-checks Aberystwyth University academic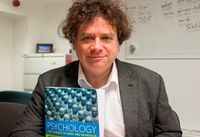 Dr Nigel Holt and a copy of the book name-checked in The Bridge
A book by Aberystwyth University psychologist Dr Nigel Holt is the reading of choice for Nordic Noir detective Saga Norén, star of The Bridge currently being screened on BBC4.
In Episode 6, aired on Saturday 5 December, when asked what she was reading, Norén replied ""Psychology – The Science of the Mind & Behaviour" by Nigel Holt".
Now in its third edition, and published by McGraw Hill, Psychology – The Science of the Mind & Behaviour is a best-selling introductory psychology textbook used for English speaking courses in many parts of Europe and South Africa, and widely used in Scandinavia.
It is co-authored by Holt (Aberystwyth), Andrew Bremner (Goldsmiths) Ed Sutherland (Leeds) and Michael Vliek (Amsterdam).
Holt is Head of the Department of Psychology at Aberystwyth University. After studying for his PhD at University of York he worked in industry before returning to academia as a research fellow in auditory psychology at University of Reading. He joined Aberystwyth in 2012.
His main research interests are in the relationship between sound and different aspects of cognition including memory, attention and performance. Recent research focus has been on the perception of time and the psychology of cycling and transport.
Speaking after seeing his name on screen, Holt said: "This is one of my very favourite TV shows so you can imagine my surprise when Saga identified my book in this way".
"Writing textbooks is not regarded by some as a terribly worthwhile academic pursuit, but I've written and edited books from GCSE, through A level and to Undergraduate level, and some are used by those in professions, so I would disagree. It is probably one of the most important components of pedagogy, and it is central to what I, my co-authors and my colleagues here in Aberystwyth do", he added.
AU38915