Mauritius Branch Campus hosts human rights symposium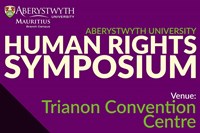 Aberystwyth University's Mauritius Branch Campus is to hold its first research event this week; a Human Rights Symposium in celebration of International Human Rights Day on the 10th of December.
The symposium will be held in Mauritius' Trianon Convention Centre.
Dr David Poyton, the Dean of Mauritius Branch Campus said: "Guided by the Aberystwyth University motto, "Nid byd, byd heb wybodaeth - a world without knowledge is no world at all", we seek to contribute to the sharing of knowledge and academic discourse in Mauritius and beyond".
The symposium will be chaired by Mr Dheerujlall Baramlall Seetulsingh, Chairman of the National Human Rights Commission of Mauritius.
Speakers will include Rajesh Babajee, a lecturer at the Mauritius Branch Campus speaking on 'The Human Rights Act in Practice, its Future and Beyond'; Morgini Ramen from University of Mauritius and Kalexius (Mauritius) Ltd, speaking on 'Climate Change as a Human Rights Issue', Hannah Baumeister, a lecturer in law from the Mauritius Branch Campus speaking on 'Does Slavery Still Exist?'; and Professor Rajendra Parsad Gunputh from the University of Mauritius on 'Workers' Rights on the Work Place Prior to Dismissal'.
Human Rights Day, held annually on December the 10th, seeks to commemorate the event on the same day in 1948 in which the United Nations General Assembly adopted the Universal Declaration of Human Rights.
In 1950, the Assembly passed resolution 423 (V), inviting all States and interested organisations to observe 10 December of each year as Human Rights Day, with this year's Human Rights Day, devoted to the launch of a year-long campaign for the 50th anniversary of the two International Covenants on Human Rights: the International Covenant on Economic, Social and Cultural Rights and the International Covenant on Civil and Political Rights, which were adopted by the United Nations General Assembly on 16 December 1966.

The two Covenants, together with the Universal Declaration of Human Rights, form the International Bill of Human Rights, setting out the civil, political, cultural, economic, and social rights that are the birth right of all human beings.
Dr Poyton stated that he hopes that the symposium will "not only (be) enlightening but also thought-provoking. It is a day to reflect upon the value of human rights around the world".
The Mauritius Branch Campus has invited people to contribute questions to the Symposium, using the hashtag #HumanRightsSymposium.
AU39015