Researcher uncovers Aberystwyth's own "Potions Master", Professor Snape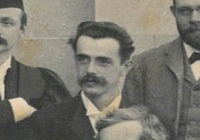 Professor Henry Lloyd Snape: 'turn to page 394' may have been something he actually said
Research by an Aberystwyth University academic has revealed that the University's Old College, a building often described as Hogwarts-esque, had its very own Professor Snape in the late 19th and early 20th century.
Writing in the Irish Times, Dr Beth Rodgers, a lecturer at the Department of English and Creative Writing at Aberystwyth University came across Snape in an article about Aberystwyth published in The Women's Penny Paper in 1890, which championed women's access to higher education – Aberystwyth was one of the first universities in the UK to admit female students.
Henry Lloyd Snape was appointed Chair of Chemistry, or "Potions Master" as Rodgers describes him, at Aberystwyth University in 1888.
His appointment followed the death of the University's original professor of chemistry, Professor Humpidge, whose laboratory was the seat of a fire that engulfed the old College in 1885 which caused the death of three people.
An obituary published in the Journal of the Chemical Society following Snape's death in 1933 "describes him as 'energetic, keen and devoted', a man serious about science but also committed to literature, an advocate of the debating society and key player in 'College dramatics'", comments Rodgers.
Snape was awarded an OBE in 1921 for his work with disabled service men following the First World War. He was also involved in running secondary as well as university education in Aberystwyth, and in later years became the Director of Education in Lancashire County Council.
Clickhere to read the full article which was published in the Irish Times on Monday 14 December 2015.
AU40015