Unmaking the Modern: The Work of Stanley Anderson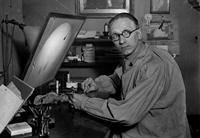 Stanley Anderson RA (1884-1966)
A new exhibition of works by painter-printmaker Stanley Anderson RA (1884-1966), a key exponent of the revival of line engraving in Britain, opens at Aberystwyth University School of Art Gallery on Monday, 1 February.
Drawing on works almost exclusively from private collections, the exhibition is curated by Dr Harry Heuser from the School of Art.
In spring 2015, Heuser and the Head of the School of Art, Professor Robert Meyrick, co-authored Stanley Anderson RA. Prints: A Catalogue Raisonné and co-curated An Abiding Standard: The Prints of Stanley Anderson RA for the Royal Academy of Arts, London.
The exhibition was recommended by Alastair Smart of The Telegraph in his short list of 'the best art exhibitions from across London and the rest of the UK'.
The new exhibition takes a closer look at Anderson's worldview.
'Anderson's work appears to be unconcerned with – and even oblivious of – Modernism,' Heuser says. 'Throughout a career spanning seven decades, it remained remarkably consistent in its themes and techniques. Indeed, most of his subjects evoke a sense of nostalgia: Craftsmen and farm labourers carrying out work that is now performed by machinery. Rural scenes that have turned into sprawling suburbia. Urban architecture that has been demolished or destroyed in wartime.'
'As his work bears out, Anderson was fiercely opposed to modernity. And yet, he did not retreat into a romanticised past but commented on the dramatic changes he observed in British society. When confronted with the cliché that it was impossible to "put back the clock," he responded that modernity meant a return to 'barbarism in ethics, childish perversity in the arts and baser ambitions in living."'
Anderson held modern art to be a manifestation of modernity's adverse effect on the human spirit: the estrangement from nature, the loss of respect for manual work and the deterioration of communal life.
In order to explore these key concerns of Anderson's work, Unmaking the Modern follows two main themes: one concentrates on his critique of what he called the 'collective idiocies of "Progress,"' the other on the 'continuity and harmony of spirit' that he sought and found beyond London.
Unmaking the Modern: The Work of Stanley Anderson is on view at the School of Art Gallery, Buarth Mawr, Aberystwyth from 1 February until 11 March 2016. The Gallery is open Monday to Friday, 10:00 to 17:00. Admission is free.
An Exacting Taskmaster: Stanley Anderson and the Class of 1921
To coincide with Unmaking the Modern, there will be a display of etchings from the School of Art collection by Anderson's now celebrated students: An Exacting Taskmaster: Stanley Anderson and the Class of 1921.
Anderson was appointed etching instructor at the University of London's Goldsmiths' College in 1925. There he inherited an exceptional group of printmaking students that included Graham Sutherland and his 'close little band' of friends, most of whom had joined the printmaking class in 1921: Paul Drury, Edward Bouverie Hoyton, William Larkins and Robin Tanner.
Signed copies of the fully illustrated hardback edition of Stanley Anderson RA. Prints: A Catalogue Raisonné will be available for sale at a special discounted price of £20 throughout the duration of the exhibition.
AU3216