'A Life in Fresh Water'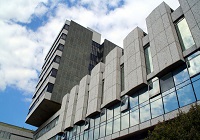 A public lecture highlighting the story of Kathleen Carpenter, a pioneering freshwater ecologist at Aberystwyth University will be held on Monday 7th March 2016 at 6.30pm in the Department of Geography and Earth Sciences at Aberystwyth University.
This lecture will be presented by Dr Catherine Duigan and has been co-authored with Dr Warren Kovach based on their recent research into the life and work of Dr Carpenter.
"Dr Kathleen Carpenter (1891-1970) made a number of important scientific discoveries in her life time, but her story remains to be told" explained Dr Sarah Davies from the Department of Geography and Earth Sciences at Aberystwyth University.
Forming part of Aberystwyth University's events to mark International Women's Day, this lecture will honour Kathleen Carpenter's scientific achievements and consider the challenges that she would have faced during her career. She is an inspiring role model for young women scientists today."
Following Dr Carpenter's pioneering freshwater MSc and PhD research at Aberystwyth University, she authored the first freshwater ecology textbook in English – Life in Inland Waters (1928). Her work and writings are inspirational, combining scientific detail and dedication, with a very obvious love for freshwater environments and their biota.
Dr Carpenter held research and teaching positions at three US universities, including Radcliffe College (the female Harvard), before returning to complete her career at Liverpool University. She made a number of notable scientific contributions to the field of freshwater ecology, which included describing the different natural zones in rivers, recognising the adaptations of the biota to running water and the importance of temperature and completing one of the first detailed studies of the diet of young salmon. Dr Carpenter documented the presence of glacial relict species in Britain and illustrated the profound impact of mine waste water on local Welsh rivers, research which staff at Aberystwyth University continue to build on to this day.
This event forms part of a week long programme of activities celebrating International Women's Day at Aberystwyth University.
Refreshments will be available in the 'Think Tank', Floor B in the Llandinam Building from 18.00 with the lecture commencing in A6 at 18.30. This free event is open to the public with no pre-booking required.
About the speaker:
Dr Catherine Duigan was born in Ireland and educated at University College Dublin where she worked on zooplankton in Irish lakes for her PhD thesis.  Her international research background has included working in the USA, France, and Africa.  ‌Dr Duigan was a post-doctoral researcher at Aberystwyth University and a University of Wales Fellow reconstructing the past environments of lakes in the High Atlas Mountains, Morocco.  She has served on the Council of the Freshwater Biological Association and provided advice to the Natural Environment Research Council.  Currently Dr Duigan is leading a group of technical specialists covering aquatic and terrestrial environments at Natural Resources Wales in Bangor.  As an honorary lecturer at Bangor University she contributes to teaching modules on freshwater ecology. She is also a STEM Ambassador.
Dr Warren Kovach was born in Cleveland, Ohio, USA, and educated at Hiram College, Ohio and Indiana University, Bloomington, where he received a PhD in palaeobotany and palaeoecology. He was subsequently a NATO Postdoctoral Fellow at Aberdeen University and a researcher at Aberystwyth University. In 1992 he formed Kovach Computing Services.
Catherine Duigan and Warren Kovach have published scientific studies together, including the current UK lake classification used in conservation assessments. Catherine has produced several papers on Welsh freshwater environments, including writing and co-editing The River of Wales book.  Warren is also a local history writer, having developed web sites and published books about the history of the Isle of Anglesey and the Menai Bridges.

AU8516