Aberystwyth University features on BBC Countryfile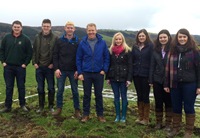 IBERS students pictured with Adam Henson during filming for Countryfile
Aberystwyth University played a starring role on Countryfile last night. The popular BBC One series featured a group of students studying Agriculture at Aberystwyth University's Institute of Biological, Environmental and Rural Sciences (IBERS).
The episode focused on young farmers, and presenter Adam Henson and the crew spent time in and around Aberystwyth, including Trawsgoed Farm where the students helped with lambing and milking.
Cennydd Owen Jones led the group of seven 1st, 2nd and 3rd year students who are studying various agricultural degrees at Aberystwyth University. Cennydd is from Pontsian, Ceredigion and is in his 4th and final year studying Agriculture and Animal Sciences.
Aberystwyth University graduate Caryl Hughes who was the first winner of the National Trust's ground breaking Llyndy Isaf scholarship in 2013, also joined the group.
This was an opportunity for Caryl to catch up with Adam Henson as her time at Llyndy was featured in a previous episode of Countryfile. The scholarship has subsequently been awarded to another two of Aberystwyth's Agriculture graduates.
The episode can be viewed via BBC iPlayer http://www.bbc.co.uk/programmes/b074bs69. You can also catch it again on BBC2 on Sunday 20 March at 08:45.
If you would like to know more about studying Agriculture at Aberystwyth University click here.
AU7616