School of Art hosts exhibition of work by Paul Newland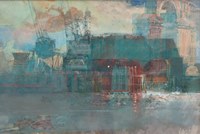 Paul Newland, Thames Capriccio II, watercolour.
An exhibition of works by Paul Newland NEAC RWS opens at Aberystwyth University School of Art Gallery on Monday, 21 March.
Born and educated in London's north-western suburbs, Paul Newland studied at the Slade School of Fine Art, London. He has a long association with Aberystwyth.
This exhibition of works in oil and watercolour reveals the artist's preoccupation with a spirit of place that he finds in the cityscape of South London and the landscape of Ceredigion.
An elected member of the New English Art Club (NEAC), Paul Newland has also served as Vice President of the Royal Watercolour Society (RWS) and continues to serve as its Honorary Curator.
His work will be shown alongside a selection of watercolours from the Royal Watercolour Society's prestigious diploma collection, dating back to the society's foundation in 1804.
Paintings by Paul Newland NEAC, RWS and works from the Royal Watercolour Society diploma collection is on view at the School of Art Gallery, Buarth Mawr, Aberystwyth from 21 March until 6 May 2016. 
The Gallery is open Monday to Friday, 10:00 to 17:00, closing for Easter from 25-29 March. Admission is free.
AU9316