Geography at Aberystwyth climbs into world top 100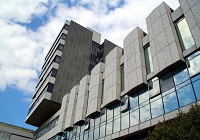 Aberystwyth is one of the top 100 universities in the world for the study of Geography according to the latest QS World University Rankings by Subject which are published today, Tuesday 22 March.
Geography climbs up to 50 places into the top 100, out of 544 scored institutions.
It is one of four subject areas at Aberystwyth described as being amongst the "World Elite" by the QS World University Rankings.
Also featured are Politics and International Studies and Agriculture and Forestry which feature in the top 150 worldwide, and Environmental Science which features in the top 300.
Now in its fifth edition, the QS World University Rankings by Subject evaluated 4,226 universities and ranked 945 institutions.
Over 113 million citations attributions were analysed and the provision of 15,530 programs were verified.
Universities are rated on Academic Reputation - academics worldwide are asked where they believe the best work is taking place; Employer Reputation - graduate employers who are asked which institutions produce the best graduates; Citations per Faculty and H-Index, which measures the productivity and impact of scholars' works by looking at the most cited papers and the number of citations received in other publications.
Professor John Grattan, Acting Vice-Chancellor said: "This is excellent news and reflects the high esteem in which academic work at Aberystwyth University is held by academics around the world. The results of the most recent Research Excellence Framework review published in December 2014 placed Aberystwyth firmly within the top 50 in the UK for research impact, and students who study here benefit from being taught by academic staff whose work is of an internationally recognised standard."
Professor Rhys Jones, Head of the Department of Geography and Earth Sciences at Aberystwyth University said: "We're extremely pleased with this recognition of the high quality of teaching and research being undertaken in the Department of Geography and Earth Sciences. These results show that our department compares very favourably with institutions elsewhere, making it one of the best places to study Geography in the world."
According the latest Times Higher Education World University Rankings 2015-16 Aberystwyth University climbed up to 50 places and into the top 40 UK institutions featured. 
It is also one of the top 200 universities in Europe and 200 most international universities according to the Times Higher Education World University Rankings.
Further information about QS World Rankings is available online here.
AU10016