Dairy Student of the Year award for IBERS student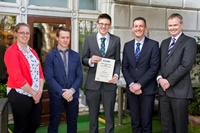 Cennydd Jones (centre) receives his award from (left to right) Kite Consulting's Abby Cook, Manod Williams of Aberystwyth University, RABDF Chairman, Mike King and Edward Lott from Kite Consulting
Aberystwyth University student Cennydd Jones from Pontsian, Llandysul is the runner up for the prestigious RABDF (Royal British Dairy Farmers Association) MSD Animal Health Dairy Student of the Year award.
A final year student studying Agriculture with Animal Science at the University's IBERS (Institute of Biological, Environmental and Rural Sciences), Cennydd beat off stiff competition from 26 other entrants.
"I was really happy to get to the finals, I can't quite believe I secured the runner up slot and it's thanks to my lecturer Manod Williams for nominating me in the first place," he said.
Cennydd's enthusiasm for dairying is reflected in helping to revert the family farming business to dairy. "Over 30 years ago, my grandparents, Idwal and Pegi converted from dairy to suckler beef, however to secure a long term future, we agreed the only way forward for this grass based unit was to convert back to dairy and gradually expand to 120 cows," he said.
Cennydd recently appeared on BBC One's popular Countryfile programme with a group of Aberystwyth University students and reflecting on his time studying at IBERS Cennydd said: "Four years in Aberystwyth has been fantastic in all fairness."
After graduating, Cennydd plans to travel before returning to the family unit and also securing a part time consultancy position. "Having already gained experience working on low input systems in New Zealand, I'd next like to travel to countries supporting more efficient systems, and learn more for example about fertility management."
He adds: "You have to be an optimist whatever industry you work in as there are always going to be peaks and troughs. Demand for dairy products is scheduled to increase in the long term, and once we start to step up exports and start to achieve a balance of supply and demand, then I think we can look forward to milk price stability."
Twenty eight agriculture and vet students responded to RABDF's invitation to complete an essay featuring business advice prepared by Kite Consulting featuring a 300 dairy cow family unit, currently a marginal business managed by a famer who was seeking a long term plan to ensure the enterprise remained viable for his son to completely take over on his retirement.
Essays were judged by RABDF chairman Mike King, RABDF Council member William Westacott and Kite Consulting's Edward Lott and Abby Cook. The six semi-finalists travelled to London to give a presentation on 'The UK Dairy Industry in the Next 10 Years'.
AU11916