International award for Aberystwyth led bio consortium partner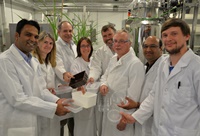 IBERS researchers working on the sustainable packaging initiative; Abhishek Somani, Ana Winters, Joe Gallager, Sian Davies (project manager), David Bryant, Stephen Taylor, Sreenivas Ravella and David Walker.
The Institute of Biological, Environmental and Rural Sciences (IBERS) at Aberystwyth University leads the consortium ADMIT BioSuccInnovate, an innovative Climate-KIC initiative funded by the European Institute of Innovation & Technology (EIT), along with Reverdia and other European partners.
Reverdia, one of the lead partners in the ADMIT Bio-SuccInnovate consortium, has been awarded 'Bio-Based Chemical Partnership of the Year'.
The manufacturer of bio-succinic acid received the Bio Business Award at World Bio Markets 2016 in Amsterdam.
Reverdia contributes its best-in-class Biosuccinium™ technology to help develop bio-based and biodegradable plastic packaging through the Climate-KIC initiative, exploring the use of locally available lignocellulosic feedstock.
The project is endorsed and supported by UK retailer Waitrose and food tray producer Sharpak.
Reverdia's Global Commercial Director, Jo Kockelkoren said: "We are honoured to receive this award for our ADMIT Bio-SuccInnovate partnership. As a partner in the consortium led by Aberystwyth University, Reverdia demonstrates how a value chain approach unlocks tangible and more sustainable products for the consumer."
David Bryant, project lead at IBERS said: "IBERS plays a key role in the project by leading on the plant science and coordinating biorefining activities for the production of bioplastics from succinic acid derived from lignocellulosic sugars.
We congratulate Reverdia on their award. We chose to work with Reverdia as they have the capacity to deliver and license high-quality Biosuccinium™ today with proven best-in-class sustainable technology that achieves the best greenhouse gas savings."
AU11716