Celebrating excellence in teaching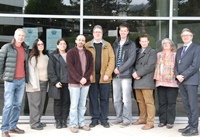 Left to right: Chris Loftus, Mary Jacob, Dr Hannah Dee, Dr David Whitworth, Dr Neil McEwan, Dr Marco Arkesteijn, Dr David Wilcockson and Alison Pierse with Acting Vice-Chancellor Professor John Grattan.
Three teaching modules have been highly commended by the judging panel in the 2015-16 Aberystwyth University Exemplary Course Awards.
The highest ranked module was 'Developing Internet-Based Application', led by Chris Loftus from the Department of Computer Science.
Also highly commended were the 'Computer Vision' module led by Dr Hannah Dee from Computer Science, and 'Advances in Invertebrate Zoology' led by Dr David Wilcockson from IBERS.
Established by the University's Information Services E-learning Group, which supports technology-enhanced learning and teaching, the annual awards honour modules which demonstrate exemplary practice in four areas: course design, interaction and collaboration, assessment and learner support.
The criteria for the awards is based on the international Blackboard Exemplary Course Programme (ECP). The University's E-Learning Group trains applicants to evaluate how well their course conforms to best practices outlined in the Blackboard ECP rubric, and to enhance their module as appropriate.
The winning modules were selected by an anonymous panel including teaching and administrative staff as well as student representation.
Chris Loftus, who leads the highest ranked module at this year's Exemplary Course Awards, commented: "I found the Exemplary Course Awards exercise an excellent way to think about my course material from the students' point of view. It helped me to completely restructure the way the material was presented online, to make it easier for students to find, and moreover to provide additional supportive learning materials."
Commendations were also awarded to three modules: the distance learning module 'Art in Wales: The Welsh Depicted', led by Alison Pierse and Dr Jacqueline Jeynes from the School of Education and Lifelong Learning, 'Biomechanical Analysis' led by Dr Marco Arkesteijn at IBERS, and 'Metabolism' led by Drs David Whitworth and Neil McEwan, also from IBERS.
Mary Jacob, from the University's E-Learning Group, who set up the Exemplary Course Awards, commented: "We are delighted with the number of applications received for this year's awards, and encourage all teaching staff who are interested in learning how to use the rubric and applying for the 2016-17 competition award to visit the AU Exemplary Course Award website for more information. The deadline to apply is 17 November 2016."
One of this year's judges said: "This year we received more applications than ever for the Exemplary Course Award. It is worth noting that 80% of the applications came from the Sciences. We would like to particularly encourage staff in Social Sciences and Humanities to consult the ECP rubric, revamp their modules as needed, and apply for this award in subsequent years."
Acting Vice-Chancellor Professor John Grattan, commented: "We've made a real investment in the learning environment at Aberystwyth University. We are promoting exciting, innovative, dynamic and challenging teaching as an essential part of what we do, and are recognising and rewarding excellence. We have a cohort of lecturers who are keen to create a rich teaching environment and generate learning materials that are amongst the best in the world."
The winners will be presented with their awards at this summer's graduation ceremonies.
AU6516