Ten new voices from Europe unveiled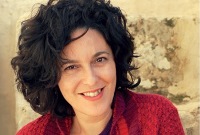 Award-winning Maltese author Clare Azzopardi is one of ten literary creators who will be promoted in a series of live and digital events across the European Union and beyond as part of Literary Europe Live
Ten of the most interesting writers working in Europe today have been selected for special promotion by an international jury drawn from prestigious literary venues and festivals.
The selection was announced at the 2016 London Book Fair on Thursday 14 April 2016, as part of the Literary Europe Live project led by Literature Across Frontiers, which is based at the Mercator Institute for Media, Languages and Culture at Aberystwyth University.
The list of ten new voices includes poets and novelists as well as translators and non-fiction writers from ten European countries – Catalonia, Croatia, Hungary, Portugal, Macedonia, Malta, Norway, Scotland, Slovenia and Turkey.
Over the next twelve months, the work of these ten literary creators will be promoted in a series of live and digital events across the European Union and beyond. An anthology of their writings will also be published.
The aim of the New Voices from Europe selection is to highlight the richness and diversity of European writing in all its genres and languages, including minority languages.
"Our New Voices will be given an opportunity they might not otherwise have with similar international or European awards," said the Director of Literature Across Frontiers, Alexandra Büchler.
"They are not only novelists which is who most publishers seem to be looking for. In fact they exemplify the diversity of the European literary scene: they write in a variety of genres and many of them are also literary translators, critics or cultural journalists."
"Some of them write in a language which a national jury might not read or their own state does not recognise, despite the fact that it is spoken by millions. Alternatively, they may be writing in a language so small that their readership at home is limited to hundreds and there are few literary translators who can render their work in other languages. But all this does not mean that they should not be heard – so with the New Voices selection, we are doing what Literature Across Frontiers has done for the past fifteen years now. We're making literature travel, sometimes from the most unexpected places."
The New Voices from Europe selection is part of the Literary Europe Live project which is co-ordinated by Literature Across Frontiers and co-funded by the Creative Europe Programme of the European Union, with support from Arts Council Wales.
Literature Across Frontiers is a European Platform for Literary Exchange, Translation and Policy Debate which was established in 2001 at the Mercator Institute for Media, Languages and Culture, Aberystwyth University in Wales, UK, and which has been supported by the Culture Programme of the European Union and other bodies.
Literary Europe Live brings together sixteen literary festivals and venues from around Europe to foster and encourage programming that reflects the richness and diversity of the European literary landscape. Co-ordinated by Literature Across Frontiers, the project is co-funded by the European Commission's Creative Europe Programme and by Aberystwyth University and the Arts Council of Wales.
10 New Voices from Europe – Biographies
1. Juana Adcock is a poet and translator who has lived in Scotland since 2009 and who works in English and Spanish. Born in Mexico in 1982, she explores the anatomy of the country's violence in her first book Manca which was named by Reforma's distinguished critic Sergio González Rodríguez as one of the best poetry books published in 2014. She is currently apprenticed to Liz Lochhead as part of the Clydebuilt poetry apprenticeship scheme.
2. Bruno Vieira Amaral is a poet, writer, translator, literary critic and assistant magazine editor who was born in Portugal in 1982. Published in 2013, his debut novel As Primeiras Coisas (The Former Things) picked up four major literary prizes – Time Out Lisboa's 2013 Book of the Year award, the 2013 Fernando Namora Literary Prize, the 2013 PEN Narrative Prize and the 2015 José Saramago Prize.
3. Born in Malta in 1977, Clare Azzopardi is an award-winning writer who writes for both children and adults. Her body of work includes poems, plays, short stories for adults, picture books for young readers and short novels for older children and young adults. Her first short story collection Il-Linja l-Hadra (The Green Line) was published in 2006 and she is currently working on her first novel. She lectures in Maltese Literature at the University of Malta Junior College.
4. Rumena Bužarovska is the author of three short story collections – Cˇkrtki (Scribbles, Ili-ili, 2007), Osmica (Wisdom Tooth, Blesok, 2010) and Mojot maž (My Husband, Blesok, 2014; Ili-ili, 2015). She is a literary translator from English into Macedonian and her translations include Lewis Carroll (Through the Looking Glass), J.M. Coetzee (The Life and Times of Michael K), Truman Capote (In Cold Blood) and Richard Gwyn (The Colour of a Dog Running Away). She is Assistant Professor of American Literature at the State University of Skopje in the Republic of Macedonia, where she was born in 1981.
5. Born in Norway in 1983, Erika Fatland is a social anthropologist who made her debut as an author in 2009 with the children's book Foreldrekrigen (Parenting War). Her first non-fiction title Englebyen (The Village of Angels) on the terror attack in Beslan was published in 2011 followed in 2012 by Året uten sommer (The Year Without Summer) about the terror attacks in Norway. Her latest book Sovjetistan is a travelogue through Kazakhstan, Kyrgyzstan, Tajikistan, Turkmenistan and Uzbekistan, for which she won the 2015 Norwegian Booksellers' Non-Fiction Prize. Fatland speaks English, French, Russian, German, Italian and Spanish.
6. Born in Granollers in 1982, Albert Forns is a journalist and award-winning Catalan writer. He works for the magazine Time Out Barcelona, the newspaper ARA and the cultural center CCCB. As a writer, he has published two novels - Jambalaia (Anagrama, 2016) which won the Anagrama Prize, and Albert Serra (la novel·la, no el cineasta) (Empúries, 2013) which picked up the Documenta Prize. He has also published a volume of poetry Ultracolors (LaBreu Edicions, 2013), inspired by the work of contemporary artists. He regularly writes on theatre, literature and visual arts for his blog as well as for Time Out magazine and the digital magazine Núvol.com.
7. Anja Golob was born in 1976 and lives in Ljubljana, Slovenia, where she works as a poet, writer, translator and dramaturge for contemporary art and dance performances. To date, she has published three volumes of poetry – two in Slovene and one German translation. Her poems and other texts have also been published in numerous magazines, along with about 750 theatre reviews. In October 2013, she started a small publishing house VigeVageKnjige, where she's the editor in chief. www.anjagolob.org
8. Poet Árpád Kollár was born in Zenta, Serbia, in 1980. He currently lives in Szeged, Hungary where he works as a literary historian at the University of Szeged. He is also the president of the Hungarian Young Writers' Association (FISZ). He has published three volumes of poetry - Például a Madzag (For Example the String) which won several debut writing awards; Nem Szarajevóban (Not in Sarajevo) and a children's poetry book Milyen madár (Which Bird) which was selected as Hungary's 2015 Children's Book of the Year.
9. Ciwanmerd Kulek (the pen name of Civanmerd Eroglu) is a novelist, poet and translator. He was born in 1984 in the Kurdish eastern region of Turkey and now lives in Istanbul where he works as a languages teacher. He has written four novels in Kurdish: Nameyek ji Xwedê re (A Letter To God, 2007) Otobês (The Bus, 2010) Zarokên Ber Çêm (Children By The River, 2012) and Defterên Perrîdankan (The Butterfly Notebooks, 2014), as well as a novella Çar Yek (One Fourth, 2015) and a poetry collection Strana Sev û Rojekê (Song of One Night and One Day, 2016). Kulek has also translated a number of literary works from English, Spanish and Turkish into Kurdish, including J. M. Coetzee (Disgrace), William Faulkner (As I Lay Dying), James Joyce (Dubliners) and Gabriel García Márquez (Chronicle of a Death Foretold).
10. Born in Zagreb in 1966, Zoran Pilic´ is a novelist and short-story writer. His first collection of short stories Doggiestyle (2007) was turned into a theatre play Sex, laži i jedan andeo (Sex, Lies and One Angel) which was performed at the Zagreb Academy of Drama Arts in 2009. His debut novel Đavli od papira (Paper Devils) was shortlisted for the prestigious Croatian literary award 'Jutarnji list' and listed as one of the best novels in 2012 by the Croatian Ministry of Culture. The Ministry listed Pilic's collection of short stories Nema slonova u Meksiku (There Are No Elephants in Mexico) as one of the country's best books again in 2014. His short story Kad su Divovi hodali zemljom (When Giants Walked the Earth) won the European Short Story Festival prize in 2015. He also writes book reviews and publishes fictional editorial on Booksa.hr
AU13716