IBERS Students Help with Path Improvement Works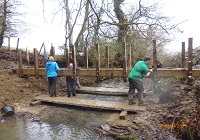 IBERS students helping with Ceredigion Council's Rights of Way Improvement Plan (ROWIP) for 2015/16
The final phase of the Rights of Way Improvement Plan (ROWIP) for 2015/16 was recently undertaken at Llangeitho, with the help of Aberystwyth University students from the Institute of Biological, Environmental, and Rural Sciences.
The Welsh Government has contributed funding under the ROWIP over a number of years, benefitting Rights of Way users by improving access throughout Wales.
The work undertaken was a collaboration between Ceredigion County Council and Aberystwyth University's Countryside Management students. 25 students gained valuable practical experience over four days, supervised by Geoff Oldrid and Ben Harper from the University.
Russell Hughes-Pickering is Head of Performance and Economy at Ceredigion County Council said: "The work was a continuation of improvements following on from a previous project completed by Ceredigion County Council in 2005; two new footbridges have now been installed and gates have replaced stiles, making it a more user friendly path for people of all ages and abilities."
He adds: "We are also grateful to the landowners, Mr. Harold Morris, Meidrym and Mr. Phil Fernandez, Glynissa for their full co-operation in allowing this project to go ahead on schedule, despite unfavourable ground conditions at the time."
A choice of circular walks is now available from the village including a two and a nine mile circular route incorporating the newly improved path. It is hoped that these improvements will attract more visitors to the area as well as being used by the local community.
Llangeitho is one of very few villages in Ceredigion that still has a village shop, café and a public house and sits on the banks of the river Aeron. It is most renowned for its connection to the famous Welsh Methodist preacher, Daniel Rowland, who was born in nearby Nantcwnlle in 1713. The village witnessed many religious revivals with the most powerful being in 1762.
AU14916