School of Education and Lifelong Learning wins Department of the Year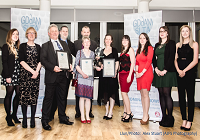 The School of Education and Lifelong Learning, the Department of the Year at this year's SLTAs. Photo credit: Alex Stuart (AJFS Photography).
The School of Education and Lifelong was crowned Department of the Year at this year's Student-Led Teaching Awards at Aberystwyth University.
The winners of eleven awards, as nominated by students, were announced during a glitzy ceremony held in Medrus last Friday.
Lecturers, support staff and student representatives were all honoured with accolades at the annual awards ceremony hosted by the Students' Union, with the support of the University.
This year's coveted Department of the Year award was presented to the School of Education and Lifelong Learning.
Elizabeth Titley, a postgraduate student in the School of Education and Lifelong Learning, said: "The ethos of the entire department is to ensure that every student succeeds - not only academically, but personally. There is an extremely high standard of teaching within the department; outstanding personal tutors and lecturers who give useful and detailed feedback; a commitment to improving the employability skills of each and every student; and a fabulous team of support staff."
Acting Vice-Chancellor, Professor John Grattan said: "Congratulations to all of the winners at this year's ceremony. The Student-Led Teaching Awards are now in their fifth year, and have become one of the real highlights of the University calendar. They offer an opportunity to reward excellence and to celebrate some of the talented and dedicated people who have gone the extra mile when it comes to supporting, teaching and inspiring our students."
The other winners of awards are as follows:
Student Representative of the Year
Winner:  Adrian Mironas, Institute of Biological, Environmental and Rural Sciences (IBERS)
Hazel Davey, who nominated Adrian for the award said:  "Adrian is an enthusiastic and long-serving member of the department and has always been willing to go the extra mile. The student-led Knowledge Exchange Programme, which enables student-to-student peer support within IBERS, would not have been possible without his vision and enthusiasm."
Award for Excellence in Technology Enhanced Learning
Winner:  Rolf Gohm, Department of Mathematics
In nominating Rolf, student Daniel Grant said:  "Rolf has adapted his traditional teaching styles, making good use of the new teaching facilities available. His use of technology has enhanced the learning of everyone."

Postgraduate Teacher Award
Winner:  David Fazakerley, Institute of Biological, Environmental and Rural Sciences Student, Adrian Krzyzanowski, who nominated Adrian, said: "David is one of the kindest, most helpful and patient teachers I have had. He has had a tremendously positive impact on my student experience and my progress in studies."
Support Staff of the Year
Winner:  Margaret Ames, Department of Theatre, Film and Television Studies
Student Laura Kipp, who nominated Margaret for the award said: "Mags is an extraordinary woman whose work as Student Welfare Officer should be officially recognised and applauded. She is friendly, forthcoming, approachable and exceptionally helpful. Her kindness and caring provide an outstanding service to the department and the university."
Excellence in Welsh-Medium Education
Winner:  Lucy Taylor, Department of International Politics
In nominating Lucy for the award, Jonathan Davies said:  "Lucy has worked tirelessly to provide Welsh-medium seminars which are stimulating and a great environment for discussing the issues in Welsh. Lucy has learnt Welsh and her command of the language is exceptional."
Supervisor of the Year (Postgraduate)
Winner:  Dr. Steve Atherton, School of Education and Lifelong Learning
Elizabeth Titley, who nominated Steve for the award, commented:  "I could not ask for a better supervisor for my postgraduate degree. As well as providing incredible academic support, Steve goes above and beyond the call of duty to provide personal and pastoral care at any hour of the day."
Supervisor of the Year (Undergraduate)
Winner: Jo Hamilton, Institute of Biological, Environmental and Rural Sciences
Melanie Moore, nominating Jo, said: "I have learned and grown so much from having Jo as my dissertation supervisor. She is someone that I can look up to as a mentor and someone who I aspire to be like. It has been such a privilege working with her."  
Personal Tutor of the Year
Winner: Susan Chapman, School of Education and Lifelong Learning
Susan was nominated by mature student Amy Morris, who said: "I am so pleased and relieved that the department allocated Dr Chapman as my personal tutor. She is welcoming, easy to talk to, encouraging, and so committed to her students and their studies."
Exceptional Contribution to Student Life
Winner: Paul Kenton, Institute of Biological, Environmental and Rural Sciences
The student who nominated Paul said:  "Paul shows a genuine passion and excitement for his subject, and uses fantastically varied methods of teaching.  He is an honest, kind, genuine and caring person, and the compassion he shows to his students is admirable.  He is one of the unsung heroes of education, and a staff member that will make a lasting impression on students time and time again."
Outstanding Teaching Award
Winner: Neil Taylor, Department of Computer Science
Josh Tumath who made the nomination said: "Neil is hard working, passionate, caring, and a truly devoted lecturer. His teaching is creative, and he is constantly changing and improving his modules. He is always willing to give students his time, and puts so much effort into his responses to assignments.

AU14816