To be or not to be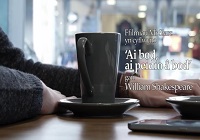 A still from the film
Hamlet's famous soliloquy, 'To be or not to be' has been brought to life through the medium of a multilingual film by Aberystwyth University alumnus Dewi Huw Owen and staff member Adam Wilson to mark the 400th anniversary of Shakespeare's death.
The project reunited the team behind the production of last year's film Sonnet 30, which was performed by a multilingual cast across several continents. Dewi Huw Owen graduated in 2013, and Adam is a filmmaker and member of the Marketing team at Aberystwyth University.
Huw said, "Though this speech is an individual's soliloquy in the original play, there are many voices to be heard within it, all of which express specific opinions in the argument that twists and turns in Hamlet's mind. Through giving a character to each one of these opinions, we see the Dane's depth and complexity, and we are treated to a powerful portrayal of his multisided, multicultural, multilingual, and most human of conditions."
Adam echoes Huw's opinion, explaining that Shakespeare's talent to tell timeless stories that transcend language and culture fascinates him, and that he relishes the opportunity to explore the different ways the Bard's work can be translated creatively from media to media.
Joining Adam and Huw on the project this year are three young actors with strong connections to Aberystwyth University.
Adrian Jezierski, originally from Poland, graduated from the Department of Theatre, Film and Television Studies in 2015. He has trained with theatre companies across Europe, from Denmark to Poland, and from France to Wales, and in 2014 he took part in the Odin Teatret Festival. Adrian continued to study with one of his former Aberystwyth tutors, Jill Greenhalgh, after he graduated, and he now works as a Physical Theatre Tutor with Aberystwyth Arts Centre and with Arad Goch Theatre.
Lara Kipp, is a researcher, scenographer and visual artist, who is currently in the third year of her PhD at the Department of Theatre, Film and Television Studies, researching Howard Baker's scenography. Originally from Bavaria, her acting credits include work for S4C and Cwmni Theatr Gwir sy'n Llechu/Lurking Truth Theatre Company. Her theatrical interests were crucially influenced by Lucy Bailey's 2006 production of Titus Andronicus, which remains her favourite Shakespeare play.
Pippa Martin is a first year student at Aberystwyth, reading joint-honours English literature, drama and theatre studies. Originally from South Africa, it was during her gap year in France that Pippa first became interested in translation in the theatre. This is her first experience of film and television acting.
The film can be viewed here: https://www.youtube.com/watch?v=mmsxbTHhhZc, and is also published on Dewi Huw Owen's bi-weekly academic blog, Bob dydd Iau bydd #cyfieithiadau!