Free activities to relieve exam stress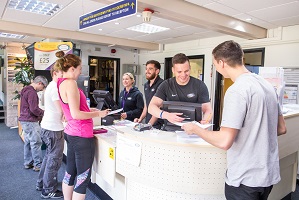 Free Yoga, Insanity, Zumba and Swimming sessions are just some of the ways the University is helping students tackle exam stress this semester as part of its commitment to support students' physical and mental well-being.
The University Sports Centre is working in partnership with Student Support to offer free 'exam stress busting' sessions in the Sports Centre to students until 31st May. These sessions are funded by the Aber Fund, a giving programme for alumni, parents, staff, students and friends of the University to support projects that directly enhance student experience and development as well as from generous donations received at the London University's Founders' Day event in December 2015.
Darren Hathaway, General Manager at the Sports Centre said: "We are delighted to be able to offer these free stress busting sessions to our students during the exam and study period. We hope that these classes offers an outlet for when students need to de-stress and they are beneficial with relieving the pressure of the exams."
Lauren Marks, Education Officer for Aberystwyth University Students Union, added: "I'm excited to see such a great offer from the Sports Centre this exam period, with an excellent range of classes. This can be a stressful time for all students and the classes are a great release from revision and exams. The SU really encourage students to give something a go and take a break from a busy study schedule."
A full timetable of when the classes are scheduled can be found here.