The Truth about Trident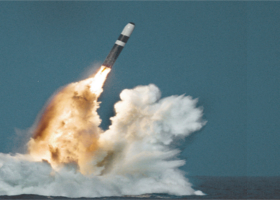 Trident II missile
The David Davies Memorial Institute (DDMI) is hosting Timmon Wallis in a book launch and discussion on the topic of The Truth about Trident on Tuesday 24 May.
Timmon Wallis' new book addresses the contentious issue of retaining the Trident nuclear programme.
He addresses questions such as: How much will the renewal of Trident actually cost? What would be the impact of not renewing or replacing Trident? Have nuclear weapons really kept us safe since the end of World War II? Is Trident even legal under International Law?
Timmon Wallis has a PhD in Peace Studies from Bradford University and has worked on peacebuilding projects in Chechnya, Croatia, Sri Lanka, Philippines and South Sudan. He has been a past editor of Peace News and Director of the National Peace Council. He currently works for Quaker Peace and Social Witness.
The book launch and discussion will take place in the Main Hall, Department of International Politics, from 7:00-8:30pm on Tuesday 24th May 2016.  Members of the general public, faculty, and students of Aberystwyth University are warmly invited to attend.