Pantycelyn Project Board publishes report and recommendations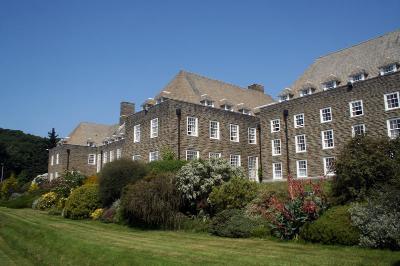 The Pantycelyn Project Board, which is coordinating the development of plans for the provision of designated Welsh medium accommodation and social spaces at Aberystwyth University, has published its report to the University's Council on fit-for-the- future Welsh-medium Accommodation and social spaces.
The comprehensive document comprises a design brief and considers its application to Pantycelyn. The report and recommendations were unanimously agreed by Project Board members, which include student representatives from UMCA – the Aberystwyth Welsh Students' Union – and Aberystwyth University Students' Union, academic staff, members of the University's governing body, and independent members.
The design brief that is being recommended to the University Council includes:
200 modern, en-suite student bedrooms;
catered provision;
social spaces and facilities similar to those previously enjoyed by residents, as well as the wider student population and community.
Gwerfyl Pierce Jones, Pro-Chancellor of Aberystwyth University and Chair of the Pantycelyn Project Board said: "The publication of the Project Board's report comes as a result of months of work to consult with students and key stakeholders on a viable design brief, and considering how that design brief could then be achieved at Pantycelyn.
"I'm very grateful to all members of the Project Board for their commitment to this work over recent months, which led to Board members reaching a unanimous decision on the recommendations to the University's Council".
Hanna Merrigan, President of UMCA, added: "The Project Board's report rightly acknowledges the contribution of Pantycelyn to the University, Aberystwyth and Wales since it became a dedicated Welsh-medium hall in 1973, and the role that a refurbished Pantycelyn can play as the centrepiece of Welsh-medium activities at the University.
"I welcome the fact that the proposed design brief has been developed on the basis of the consultation with students and other key stakeholders, and I now look forward to seeing the University's Council support the Project Board's recommendations so that these exciting plans can be taken forward".
The report will be presented to the University's Finance and Strategy Committee on 27 May 2016 and subsequently to the University Council on 29 June 2016.
In accordance with the Project Board's intention to operate in an open and transparent manner, a copy has also been published on the University's website at https://www.aber.ac.uk/en/university/pantycelyn/

AU17116