Aberystwyth University names new Fellows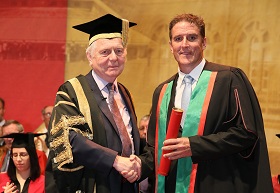 Wildlife television presenter and naturalist, Iolo Williams, who was honoured as Fellow of Aberystwyth University in 2015.
Aberystwyth University will honour thirteen individuals during Graduation Week 2016 which takes place over four days, from Tuesday 12 until Friday 15 July, in the Great Hall at Aberystwyth University's Arts Centre.
Nine Honorary Fellowships will be presented to individuals who have, or have had a connection with Aberystwyth or Wales, and who have made an outstanding contribution to their chosen field.
One Honorary Doctorate will also be presented; these recognise an individual who has been outstandingly successful in their field, or who have a long record of renowned research and publication.
Two Honorary Bachelor of Arts, and one Honorary Bachelor of Science degree will also be presented. These are conferred on individuals who are members of Aberystwyth University staff without an entry-level degree in recognition of long-service, contribution and dedication to the Institution; and members of the local community who have made a significant contribution to Aberystwyth and the area.
Professor April McMahon, Aberystwyth University's Vice-Chancellor said: "Graduation is the highlight of the University's calendar, a time when we celebrate the hard work and achievements of our graduates. It is also an opportunity to recognise some exceptional individuals who have excelled in their particular fields, and have made a considerable contribution to Aberystwyth, to Wales, and beyond. We are delighted that such a distinguished and interesting group of people have accepted our invitation to become Fellows of Aberystwyth University. It is also an honour for us to present candidates for Honorary Doctorate and Honorary Bachelor Degrees, in recognition of their success, contribution, and dedication. We look forward to sharing the graduation ceremonies with these remarkable people."
The 2016 Aberystwyth University Honorary Fellows are (in order of presentation):
Charmian Gooch
An alumna of the University, Charmian Gooch is co-founder and director of Global Witness, a non-profit organisation campaigning to end environmental and human rights abuses which are driven by the exploitation of natural resources and corruption in the global political and economic system. She jointly led Global Witness's first campaign, exposing the trade in timber between the Khmer Rouge and Thai logging companies and their political and military backers. She also developed and launched their campaign to combat 'blood diamonds', work for which Global Witness was nominated for the 2003 Nobel Peace Prize. Charmian won the annual TED Prize for 2014, and along with her co-founders of Global Witness, has received a Gleitsman International Activist Award and Skoll Award for Social Entrepreneurship. In 2014 she was named on Bloomberg Markets' 50 Most Influential list.
Charmian Gooch will be presented during Ceremony 1 on Tuesday morning, 12 July.
Ruth Lambert
Ruth Lambert was born and brought up in Machynlleth. She accepted an Exhibition at Westfield College, University of London in 1949 and graduated in History in 1952. Ruth used a family legacy to travel round the world before marrying a Naval Officer in 1954. After bringing up a family she worked in School Care as a voluntary social worker in North Kensington. She served as a Justice of the Peace for Inner London from 1981 to 1989. She was Chairman of The Machynlleth Tabernacle Trust from 1986 to 2009 and from 2012 to 2015. She organised the Machynlleth Festival and the exhibition programme of MOMA (Museum of Modern Art) Machynlleth for nearly thirty years.
Ruth Lambert will be presented during Ceremony 1 on Tuesday morning, 12 July.
Sir Evan Paul Silk KCB
A native of Crickhowell, Paul Silk attended school in Brecon before further education at Oxford, Princeton (USA) and the Open University. Most of his professional career was as a Clerk in the House of Commons. From 2001 to 2007 he was Clerk to the National Assembly for Wales. He was then Director of Strategic Projects in the House of Commons from 2007 to 2010. From 2011 to 2014 he chaired the Commission on Devolution in Wales. An honorary Professor in the Department of Politics and International Relations at Cardiff University and is President of the Study of Parliament Group, he has written and lectured extensively on Parliament and the constitution. He was appointed Knight Commander of the Order of the Bath in the 2015 New Year Honours for services to parliaments and to devolution.
Sir Evan Paul Silk will be presented during Ceremony 3 on Wednesday morning, 13 July.
Natasha Devon MBE
Natasha Devon MBE is a writer, campaigner and television pundit. She is founder of the Self Esteem Team and the Body Gossip Education Programme, both working in schools to help teenagers, their parents and teachers with mental health and body image. To date, her award-winning classes have been delivered to more than 60,000 teenagers across the UK. In 2015, Natasha was appointed as the government's Mental Health Champion for Schools. In 2016 theSunday Times and Debretts named her one of the 20 most influential people in British education.
Natasha Devon will be presented during Ceremony 3 on Wednesday morning, 13 July.
Dr Mitch Robinson
Originally from Mississippi, Mitch Robinson graduated with Master of Laws (LLM) from the Department of Law and Criminology at Aberystwyth University in 2005. Now an international law specialist for the US Department of Defense, he recently worked on a human rights case at Guantánamo Bay detention camp in Cuba, where his work was instrumental in obtaining ground breaking reports and precedents from the United Nations regarding due process rights and the rehabilitation of torture victims. Mitch attributes his professional success to his time spent studying in Aberystwyth. In 2015 he won the Professional Achievement Award at the US British Council's Education UK Alumni Awards, which honour the outstanding achievements of business professionals, entrepreneurs and community leaders who can demonstrate how their UK education impacted on their success.
Mitch Robinson will be presented during Ceremony 4 on Wednesday afternoon, 13 July.
A J S Williams MBE
The late A.J.S "Bill" Williams (1920-2016) started his career as an RAF pilot and flying instructor. Graduating with first class honours in Chemistry from Aberystwyth in 1950, he was then appointed assistant lecturer in organic chemistry. In 2014 Bill was named as one of the Royal Society of Chemistry's 175 Faces of Chemistry, in recognition of the work he did educating more than 80,000 schoolchildren during his long career at Aberystwyth University from 1950-2011. During his lifetime, Bill also received an MBE, the Michael Faraday Award Lecture, the B D Shaw Bronze Medal (University of Nottingham) and the RSC Silver Medal.
The family of A.J.S Williams will receive the honour in his memory during Ceremony 6 on Thursday afternoon, 14 July.
Dr Catherine Bishop
Dr Catherine Bishop is a triple Olympian, international conflict diplomat, and experienced speaker and facilitator. A graduate in Modern Languages from the University of Cambridge, with an MPhil in International Politics and a PhD in German from the University of Reading, Cath became a World Champion and an Olympic Silver Medallist with Great Britain's Rowing Team. She also spent more than a decade working as a British diplomat, specialising in conflict issues and serving on postings to Bosnia and Iraq. Cath's inspiring business speaking, lecturing and teaching focuses on the challenge of delivering outstanding performance under difficult circumstances, for which she draws on her personal experiences of Olympic sport and international conflict diplomacy.
Dr Catherine Bishop will be presented during Ceremony 6 on Thursday afternoon, 14 July.
Andrew Guy MBE
Andrew Guy has had forty years' experience in the casual dining sector of the hospitality industry, working in the UK, Europe and the USA. He has been CEO of Ed's Easy Diner since 2011, during which time the number of Diners has grown from three to fifty-five. The company now employs over 1,000 team members, many of whom were recruited through the Springboard Charity, which finds employment in the hospitality industry for unemployed and disadvantaged young people. He is currently a Trustee of the hospitality industry's two principal charities, Hospitality Action and Springboard and received a Catey Award in 2003 as Group Restaurateur of the Year. He was awarded the MBE in the 2015 New Year's Honours for his leadership in the industry and his work with these charities.
Andrew Guy will be presented during Ceremony 7 on Friday morning, 15 July.
Professor Julian Dowdeswell
Professor Julian Dowdeswell is Director of the Scott Polar Research Institute, Professor of Physical Geography at the University of Cambridge, and Brian Buckley Fellow in Polar Science at Jesus College, Cambridge. He graduated from Cambridge in 1980, and studied for a Master's Degree at the Institute of Arctic and Alpine Research in the University of Colorado and for a PhD in the Scott Polar Research Institute, University of Cambridge. In a career of more than thirty years, he has taught at the universities of Aberystwyth, Bristol and Cambridge, and established glaciology research centres in both Aberystwyth and Bristol. Julian has received many awards for his work including the Polar Medal, the Founder's Gold Medal and the Gill Memorial Award from the Royal Geographical Society, and in 2014 the IASC (International Arctic Science Committee) Medal.
Professor Julian Dowdeswell will be presented during Ceremony 8 on Friday afternoon, 15 July.
Honorary Doctorate
Professor Ken Walters
Distinguished Research Professor in the Institute of Mathematics, Physics and Computer Science at Aberystwyth University, Ken Walters was awarded a degree, MSc and PhD from Swansea University. He was appointed as a lecturer at Aberystwyth University and was made Professor in 1973. His research is in fluid mechanics and rheology, and he has served on international committees in his subject. He is a founding fellow of The Learned Society of Wales and a Fellow of the Royal Society. He has been awarded the DSc degree of the University of Wales, an Honorary Doctorate by the Université Joseph Fourier, Grenoble (France), and by Strathclyde University. In 2010 he became a member of the Science Advisory Council for Wales (SACW), and in 2014, he was elected as a Member of the International Academy of Engineering.
Professor Ken Walters will be presented during Ceremony 5 on Thursday morning, 14 July.
Honorary Bachelor of Arts Degrees
Karina Shaw
Karina Shaw is an Assistant Headteacher at Ysgol Penglais, Aberystwyth. She has a long history with Ysgol Penglais having taught there for the last 16 years. Prior to this she was also a pupil at the school. She is passionate about social inclusion not only within the school environment but also in the wider community. She is a Director of the Penparcau Community Forum and this role has given her the opportunity to be involved in a wide range of community projects. She is also passionate about preserving local history and heritage for future generations. She is a founder member and current Chairwoman of the Penparcau History and Heritage group. In her spare time Karina volunteers within the community on a variety of projects and she volunteers weekly at the Aberystwyth Ty Hafan charity shop.
Karina Shaw will be presented during Ceremony 2 on Tuesday afternoon, 12 July.
Aled Haydn Jones
Aled Haydn Jones was born and bred in Aberystwyth. He attended Ysgol Gymraeg, Ysgol Penweddig and Coleg Ceredigion, and started his media career with Radio Bronglais FM and Radio Ceredigion. After saving up his money working at his parents' cafe, Caffi Morgan, he made the leap to London to work with the BBC, where he has been for the last twenty years. At BBC Radio 1 he climbed the ranks from being runner on the Radio 1 Roadshows to producing the station's longest running Breakfast Show with Chris Moyles and the team (broadcasting the show live from Aberystwyth on several occasions).  Aled was also host of The Surgery giving advice to vulnerable teenagers live on air for six years. Aled now manages Radio 1 Weekend shows and events including The Teen Awards and Big Weekend.  He has also been an S4C presenter on the WawFfactor, Cân i Gymru and on his own show Llond Ceg discussing the issues that young Welsh people face.
Aled Haydn Jones will be presented during Ceremony 7 on Friday morning, 15 July.
Honorary Bachelor of Science Degree
Stefan Osgood
Stefan James Osgood (1994-2016), originally from Wallasey on the Wirral, came to study Mathematics at Aberystwyth University in 2012. He was incredibly engaged with many elements of student life in Aberystwyth; captaining the University Men's Fencing Team and becoming Vice-President of AberSnow (Snowsports). In April 2016, he was the first student to ever be posthumously awarded University Colours (Sports), Sports Personality of the Year and Honorary Life Membership from the Students' Union. Stefan achieved and contributed a lot whilst studying at Aberystwyth, and made a huge impact on his peers during his time here. Stefan and his team mates are exceptional contributors to Raising and Giving at Aberystwyth, and have raised over £10,000 for charity, including for Mind Aberystwyth, in Stefan's memory.
Stefan Osgood's family will receive the honour in his memory during Ceremony 5 on Thursday morning, 14 July.
AU19816