Graduation 2016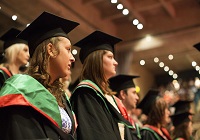 More than 2,400 students will be graduating from Aberystwyth University this week as Graduation 2016 gets underway tomorrow, Tuesday 12 July.
Graduation week, which this year features eight ceremonies over four days from Tuesday 12 until Friday 15 July, is the highlight of the University calendar and is a celebration of the achievements of Aberystwyth students.
It is also an opportunity for graduates to celebrate and enjoy the occasion with family and friends.
Professor April McMahon, the University's Vice-Chancellor, explains: "Graduation week is one of the real highlights of our University year which the Aber family of staff and graduates can enjoy together. As this year's cohort of graduands look forward to celebrating their achievements with friends, families and supporters, it will also be our privilege to honour eight new Fellows, and present four Honorary Doctorates and Degrees."
All ceremonies will be streamed live online at http://www.aber.ac.uk/en/graduation/video/stream/.
Order of ceremonies:
Tuesday 12th July
Ceremony 1, 11am
School of Management and Business
School of Art
Ceremony 2, 3pm
School of Education and Lifelong Learning
Department of English and Creative Writing
Department of Welsh and Celtic Studies
Department of Modern Languages
Wednesday 13th July
Ceremony 3, 11am
Department of International Politics
Department of Psychology
Ceremony 4, 3pm
Department of Law and Criminology
Department of Information Studies
Thursday 14th July
Ceremony 5, 11am
Department of Computer Science
Department of Mathematics
Department of Physics
Ceremony 6, 3pm
Institute of Biological, Environmental and Rural Sciences (IBERS)
Friday 15th July
Ceremony 7, 11am
Institute of Biological, Environmental and Rural Sciences (IBERS)
Department of Theatre, Film and Television Studies
Ceremony 8, 3pm
Department of Geography and Earth Sciences
Department of History and Welsh History
AU20816