Distinguished Research Professor Ken Walters presented with Honorary Doctorate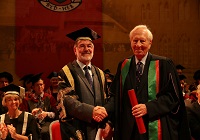 Pro-Chancellor of Aberystwyth University Dr Glyn Rowlands with Professor Ken Walters.
Professor Ken Walters, Distinguished Research Professor in the Institute of Mathematics, Physics and Computer Science at Aberystwyth University, has been presented with an Honorary Doctorate.
Professor Walters was presented on Thursday 14 July by Acting Vice-Chancellor, Professor John Grattan.
Presentation of Professor Ken Walters
Dirprwy Ganghellor, Is-Ganghellor, darpar raddedigion, gyfeillion. Pleser o'r mwyaf yw cyflwyno yr Athro Ken Walters yn Ddoethur er Anrhydedd Prifysgol Aberystwyth.
Pro Chancellor, Vice-Chancellor, prospective graduates and supporters. It is an honour and a privilege to present Professor Ken Walters for an Honorary Doctorate of Aberystwyth University.
It would be impossible to find someone who has made such a significant contribution in so many fields as Professor Ken Walters. For over 50 years Ken has played a significant role in international science, in the scientific life of Wales and has played a major role in the University and Aberystwyth.
Ken studied at the University of Swansea, where he graduated with first class honours in Applied Mathematics in 1956. He was awarded an MSc degree in 1957 for research into Atmospheric Diffusion and a PhD degree in 1959 for research into Rheology.
After a year researching and lecturing in the USA, Ken returned to Aberystwyth. He was promoted to Senior Lecturer in 1965, Reader in 1970 and was made Professor in 1973. He is currently Distinguished Research Professor here at the University.
Ken was awarded a DSc degree of the University of Wales in 1985 and was elected a Fellow of the Royal Society in 1991. Between 1974-76 he was President of the British Society of Rheology and received their Gold Medal in 1984. In 1995, Ken was elected a Foreign Associate of the National Academy of Engineering of the United States. He was awarded an Honorary Doctorate by the Université Joseph Fourier, Grenoble, France, in 1988, and by Strathclyde University, Scotland, in 2011. In 2002, he received the Weissenberg Award of the European Society of Rheology.
Ken has made a number of significant contributions to rheology and the development of rheological science in the UK, and has conducted extensive studies of the behaviour of non-Newtonian fluids, particularly elastic liquids. He has made important advances in two major areas: the measurement of rheological properties, and the numerical solution of complex flows. His book, Rheometry, is a standard work of reference. He is one of the main pioneers of the application of numerical methods to the rheology of liquids and the book Numerical Simulation of Non-Newtonian Flow, of which he is joint author, is an influential text in a rapidly evolving field of research.
In 2009, Ken became one of the Founding Fellows of the Learned Society of Wales and in 2010, he accepted an invitation to become a member of the Science Advisory Council for Wales.
In 2014, Ken was elected as a Member of the International Academy of Engineering.
Ken has written 6 books and 150 research papers. He was Executive Editor of the Journal of Non-Newtonian Fluid Mechanics from its launch in 1976 until the publication of Vol. 100 in 2002. He now has the title "Founding Editor" and remains a member of the Editorial Board.
From 1996-2000, Ken was the (first) President of the European Society of Rheology and, from 2000 to 2004, he was Chairman of the International Committee on Rheology.
Ken is an inspiration to me personally and I am proud to consider him a friend. His deep Christian faith and the positive influence he has on all around him is a challenge to me in the way I live my life and express my faith.
Dirprwy Ganghellor, mae'n bleser gen i gyflwyno Ken Walters i chi yn Ddoethur er Anrhydedd.
Pro Chancellor, it is my absolute pleasure to present Ken Walters for an Honorary Doctorate of Aberystwyth University.
Aberystwyth University Honours 2016
Twelve individuals are being honoured by Aberystwyth University during the 2016 graduation ceremonies, which take place at the University's Arts Centre from Tuesday 12 July until Friday 15 July.
Eight Honorary Fellowships will be presented to individuals who have, or have had a connection with Aberystwyth or Wales, and who have made an outstanding contribution to their chosen field.
One Honorary Doctorate degree will be presented. These are presented to individuals who have been outstandingly successful in their field, or who have a long record of renowned research and publication.
Three Honorary Bachelor degrees will be presented. These are presented to individuals who are members of Aberystwyth University staff without an entry-level degree in recognition of long-service, contribution and dedication to the Institution; and members of the local community who have made a significant contribution to Aberystwyth and the area.
Also being honoured are:
Honorary Fellowships:
Dr Catherine Bishop, triple Olympian, international conflict diplomat and experienced speaker and facilitator
Natasha Devon MBE, writer, campaigner, television pundit, and founder of the Self Esteem Team
Professor Julian Dowdeswell, Director of the Scott Polar Research Institute and a Professor of Physical Geography at the University of Cambridge
Charmian Gooch, anti-corruption campaigner and co-founder and director of Global Witness
Ruth Lambert MBE, former Chairman of the Machynlleth Tabernacle Trust, who organised the Machynlleth Festival and the exhibition programme of MOMA (Museum of Modern Art) Machynlleth for almost thirty years
Dr Mitch Robinson, international law specialist for the US Department of Defense specialising in human rights, and an alumnus of the University
Sir Evan Paul Silk KCB, President of the Study of Parliament Group; formerly clerk in the British House of Commons, Clerk to the National Assembly for Wales and chair of the Commission on Devolution in Wales
A J S "Bill" Williams MBE (1920-2016), RAF pilot and Aberystwyth University lecturer named in 2014 as one of the Royal Society of Chemistry's 175 Faces of Chemistry.
Honorary Bachelor Degrees:
Karina Shaw, Assistant Headteacher at Ysgol Penglais, Aberystwyth, Director of the Penparcau Community Forum, founder member and current Chairwoman of the Penparcau History and Heritage group, and charity volunteer
Aled Haydn Jones, Welsh radio editor, presenter and former radio producer with BBC Radio 1, and presenter with S4C.
Stefan Osgood (1994-2016), who achieved and contributed a great deal while studying at Aberystwyth, including through his involvement in sports, and as an exceptional contributor to Raising and Giving at the University.
AU21616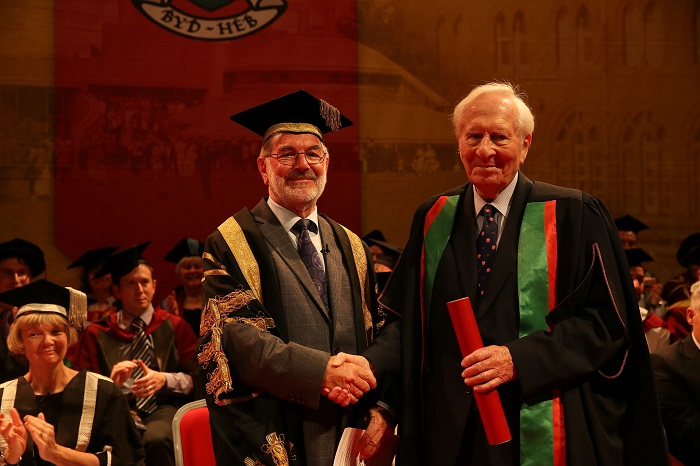 Dr Glyn Rowlands, Pro-Chancellor of Aberystwyth University with Professor Ken Walters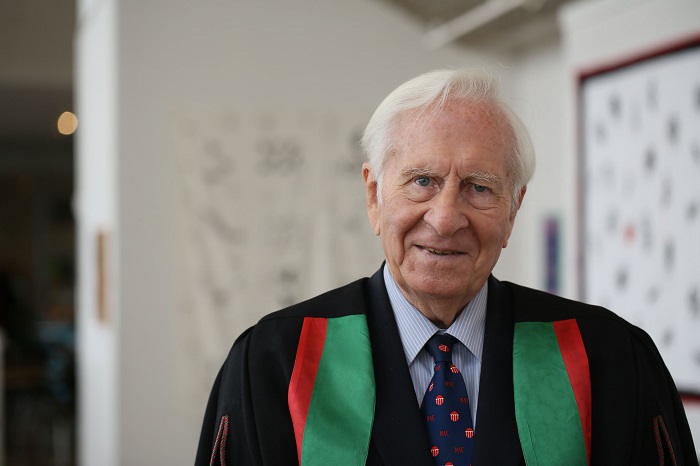 Professor Ken Walters