Triple Olympian and international conflict diplomat Dr Catherine Bishop honoured with Fellowship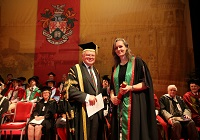 Aberystwyth University Treasurer Dr Timothy Brain OBE with Dr Catherine Bishop
Triple Olympian, international conflict diplomat and experienced speaker and facilitator Dr Catherine Bishop has been presented with an Honorary Fellowship of Aberystwyth University.
Dr Catherine Bishop was presented as Fellow on Thursday 14 July by Dr Rhys Thatcher, Reader in Exercise Physiology in the Institute of Biological, Environmental and Rural Sciences.
Presentation of Dr Catherine Bishop
Trysorydd, Is-Ganghellor, darpar raddedigion, gyfeillion. Pleser o'r mwyaf yw cyflwyno Catherine Bishop yn gymrawd Prifysgol Aberystwyth.
Treasurer, Vice-Chancellor, prospective graduates and supporters. It is an honour and a privilege to present Catherine Bishop as a Fellow of Aberystwyth University.
Alongside her academic achievements; a graduate in Modern Languages from the University of Cambridge, an MPhil in International Politics from Aberystwyth University and a PhD in German from the University of Reading, Catherine is an accomplished sports woman.
In 2003 her crew became the first ever world champions in the women's coxless pairs for Great Britain and went on the win a silver medal in the Olympic Games in 2004. She also won the British indoor rowing championships a record four times, held the British record over 200m and became Britain's first female open-weight indoor rowing world champion in 1999.
While studying for her MPhil at Aberystwyth, Catherine was a research assistant for a project on German unification on which she demonstrated a particular skill in mastering the writings of East German literary and political figures.
In her professional life Catherine had a 12-year career in the foreign office, specializing in conflict issues around the world with postings to Bosnia and Iraq. Her roles include; press officer at the British embassy, Sarajevo, from 2004; political advisor to the high representative to Bosnia and Herzegovina from 2006; head of the political section at the British consulate in Basra from 2007; and deputy director of the stabilization unit in London from 2009 to 2011.
An experienced speaker and facilitator, Catherine has taught on leadership courses and delivered workshops and seminars at Imperial College Business School, the Said Business School, Oxford University and Ashridge Business School. Her clients include Microsoft, the British Council, GE Healthcare, Arriva, Coca Cola and Yahoo amongst many others.
Her lecturing and teaching focus on the challenge of delivering outstanding performance under difficult circumstances. Her core themes include leadership, resilience, high-performance teams, dealing with pressure, peak performance and striving for personal and team excellence. She draws on her personal experiences of Olympic sport and international conflict diplomacy to apply the lessons she has learned to individuals, teams and organisations.
Trysorydd, mae'n bleser gen i gyflwyno Catherine Bishop i chi yn Gymrawd Prifysgol Aberystwyth.
Treasurer, it is my absolute pleasure to present Catherine Bishop to you as a Fellow of Aberystwyth University.
Aberystwyth University Honours 2016
Twelve individuals are being honoured by Aberystwyth University during the 2016 graduation ceremonies, which take place at the University's Arts Centre from Tuesday 12 July until Friday 15 July.
Eight Honorary Fellowships will be presented to individuals who have, or have had a connection with Aberystwyth or Wales, and who have made an outstanding contribution to their chosen field.
One Honorary Doctorate degree will be presented. These are presented to individuals who have been outstandingly successful in their field, or who have a long record of renowned research and publication.
Three Honorary Bachelor degrees will be presented. These are presented to individuals who are members of Aberystwyth University staff without an entry-level degree in recognition of long-service, contribution and dedication to the Institution; and members of the local community who have made a significant contribution to Aberystwyth and the area.
Also being honoured are:
Honorary Fellowships:
Natasha Devon MBE, writer, campaigner, television pundit, and founder of the Self Esteem Team
Professor Julian Dowdeswell, Director of the Scott Polar Research Institute and a Professor of Physical Geography at the University of Cambridge
Charmian Gooch, anti-corruption campaigner and co-founder and director of Global Witness
Ruth Lambert MBE, former Chairman of the Machynlleth Tabernacle Trust, who organised the Machynlleth Festival and the exhibition programme of MOMA (Museum of Modern Art) Machynlleth for almost thirty years
Dr Mitch Robinson, international law specialist for the US Department of Defense specialising in human rights, and an alumnus of the University
Sir Evans Paul Silk KCB, President of the Study of Parliament Group; formerly clerk in the British House of Commons, Clerk to the National Assembly for Wales and chair of the Commission on Devolution in Wales
A J S "Bill" Williams MBE (1920-2016), RAF pilot and Aberystwyth University lecturer named in 2014 as one of the Royal Society of Chemistry's 175 Faces of Chemistry.
Honorary Doctorate Degree:
Professor Ken Walters, Distinguished Research Professor in the University's Institute of Mathematics, Physics and Computer Science, founding fellow of the Learned Society of Wales and a Fellow of the Royal Society
Honorary Bachelor Degrees:
Karina Shaw, Assistant Headteacher at Ysgol Penglais, Aberystwyth, Director of the Penparcau Community Forum, founder member and current Chairwoman of the Penparcau History and Heritage group, and charity volunteer
Aled Haydn Jones, Welsh radio editor, presenter and former radio producer with BBC Radio 1, and presenter with S4C.
Stefan Osgood (1994-2016), who achieved and contributed a great deal while studying at Aberystwyth, including through his involvement in sports, and as an exceptional contributor to Raising and Giving at the University
AU21816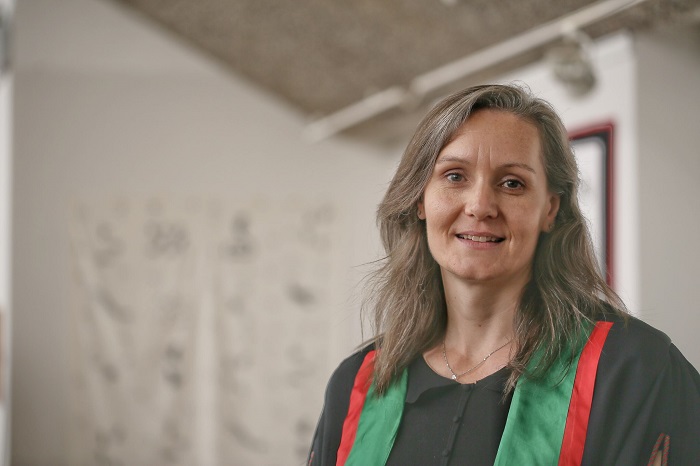 Dr Catherine Bishop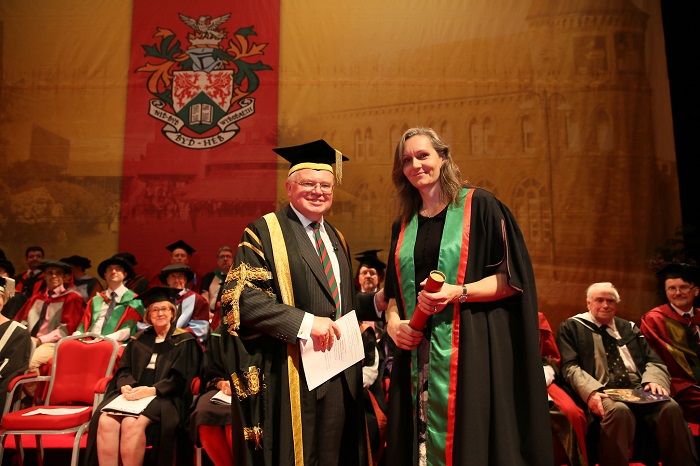 Aberystwyth University Treasurer Dr Timothy Brain OBE with Dr Catherine Bishop