Graduation Week Boosts Local Businesses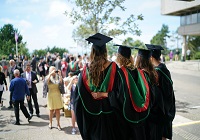 Aberystwyth University Graduation 2016.
There is no doubt that Aberystwyth University's graduation ceremonies bring countless celebrations to many successful graduates and their families and friends. What it also brings is a significant boost to the area's economy as hundreds of visitors descend on the seaside town, to partake in the week's festivities.
Over 2,400 students graduated over the course of last week with eight separate departmental ceremonies celebrating achievements across Aberystwyth's broad portfolio of degree schemes and research.
Taking place in the Arts Centre Great Hall on the Penglais campus in Aberystwyth, proud parents, relatives and friends have visited the town from all over the UK and even further afield.
The extra visitors to the town have been a welcome addition to the area and a real boost to the local economy. Restaurants, hotels, bars and shops are just some of the businesses to have benefitted, as graduates and their guests flooded Aberystwyth as they aimed to celebrate the end of their studies in style.
The seafront bar and restaurant Baravin was one such business to see an increase in trade as manager Gareth Evans explains:
"Graduation week is a great week for the graduates and for businesses like ourselves. We've seen a record number of customers coming in to enjoy our food and to celebrate their success, be it at breakfast, lunch or dinner! Everybody's been in high spirits and enjoying all that Aber has to offer. It is incredibly busy but we wouldn't have it any other way."
Meanwhile, the graduation ceremonies have a wider impact on tourism across the region. Cllr Gareth Lloyd who has responsibility for Economic Development and Tourism on Ceredigion County Council's Cabinet is delighted at the positive impact Aberystwyth's graduations have had on the locality:
"Many people travel from far and wide to attend Aberystwyth University's graduation ceremonies and it is great to see so many people in the area and so many businesses thriving because of it. We pride ourselves on the quality of the hospitality sector within Ceredigion and past experiences show that many of these visitors will return in future. This is indeed a great boost at the start of the summer season."
Acting Vice-Chancellor Professor John Grattan believes this further underlines the importance of the relationship between the Town and Gown:
"Our graduation period is one of the highlights of our academic calendar and we are aware that many friends and families will be visiting the area for the first time during this week. It is crucial therefore that we use the experience as a platform to showcase Aberystwyth and Ceredigion and it is heartening to hear of the resulting positive economic impact. To learn and live in the exceptional community that is Aberystwyth is an experience that our students will treasure for the rest of their lives and I would like to wish them the very best for their future careers."
Aberystwyth University's 2016 graduation ceremonies were held July 12-15 recognising the success of undergraduate and post-graduate students as well as alumni who have forged successful careers in their chosen fields.

AU23716