Indonesian academics visit Aberystwyth University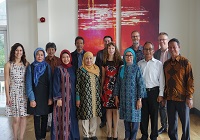 The Indonesian delegation, along with members of staff from Aberystwyth University.
Aberystwyth University has been hosting a group of senior Indonesian academics who are studying aspects of mine water treatment in the UK and discussing collaborative academic links as part of the Indonesia-UK DIKTI programme.
The group formed part of a British Council Global Innovation Initiative project entitled 'Establishing a Network of Research Excellence for Mine Reclamation in Southeast Asia' which links several institutions in Indonesia with Aberystwyth University, Bangor University and the University of West Virginia.
The project aims to deal with the aftermath of mining in Indonesia, specifically at a very large coal mine site, similar to many of the open-cast mine sites in the UK.
With British Council funding of £150,000, the delegation looked at the lessons the UK has learned about treating contaminated mine water, and considering how Indonesia can learn from the work done here in the UK.
They learnt about the methods applied in the UK to deal with the contaminated water which is often released from coal mine sites, with visits to selected sites in South Wales.
The visit was organised by Dr Bill Perkins, of Aberystwyth University's Department of Geography and Earth Sciences delegation consists consisted of and included the following visiting academics:
Dr Didik Suprayogo - Vice-Dean of Academic affairs, Faculty of Agriculture, University of Brawijaya
Dr Tri Retnaningsih Soeprobowati - Director, Master Program of Biology, Faculty Science and Mathematics, University of Diponegoro
Professor Purwanto Muhadi Tamsir, Director of Graduate Program, University of Diponegoro
Professor Rudy Sayoga Gautama - Department of Mining Engineering, Faculty of Mining & Petroleum Engineering, Bandung Institute of Technology
A dinner for the delegation and representatives of the university was held in Aberystwyth University on the 21st of July 2016.
AU23316