James and the Giant Peach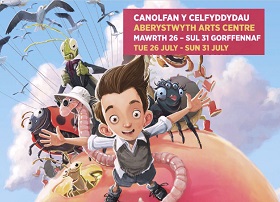 Tonight (Tuesday 26th July) marks the opening night of the first of Aberystwyth Arts Centre's spectacular summer shows for 2016.  With performances through to Sunday 31st July, James and the Giant Peach is suitable for all the family.  
Roald Dahl's classic tale follows the adventurous young James and his friends – Miss Spider, Old-Green-Grasshopper, Centipede, Ladybird and Earthworm.
Beginning at the end of the story, like all great tales do, James and his friends are living in the giant peach stone in Central Park, New York, but the real story lies in how they got there, all the way from the White Cliffs of Dover.
Orphan James Henry Trotter was sent to live with his evil aunts, Spiker and Sponge, after his parents were killed in a tragic rhinoceros accident. Just when James thinks he will never be allowed to have fun again he meets an old man who gives him a bag containing the ingredients for the strongest magic potion in the world. When James accidentally spills it near the old peach tree in his aunts' garden the most marvelous things start to happen and he begins the greatest adventure of his life.
Join James and his new found insect friends on their extraordinary journey fraught with enemies, dangers and excitement, which will take them halfway around the world in a giant peach full of friends, music and laughter.
Evening performances of James and the Giant Peach will be held from Tuesday to Sunday at 7.30pm.  Matinees take place at 2.30pm on Wednesday, Thursday, Saturday and Sunday.  The matinee production on Saturday 30th July is a British Sign Language signed show.
For more information and to book tickets visit: https://aberystwythartscentre.co.uk/family/james-and-giant-peach
James and the Giant Peach is produced by Sell A Door Theatre Company, an award winning producer of mid and large-scale touring theatre.
The second of Aberystwyth Arts Centre's Summer Shows, Footloose, will burst onto the stage on 10th August, with performances through to 27th August.
For more information and to book tickets for Footloose visit: https://www.aberystwythartscentre.co.uk/theatre/footloose