Aberystwyth University to deliver Welsh for Adults courses for National Centre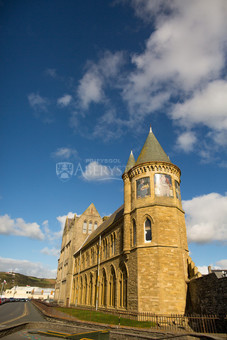 Old College, Aberystwyth
Aberystwyth University has been invited by the National Centre for Learning Welsh to deliver Welsh for Adults courses on its behalf in Ceredigion, Powys and Carmarthenshire.
Aberystwyth University will take responsibility for all Welsh for Adults provision in Ceredigion and Powys as well as intensive courses, blended courses and courses for Higher and Proficiency Levels in Carmarthenshire.
Weekly Entry, Foundation and Intermediate level courses in Carmarthenshire will be delivered by Carmarthenshire County Council, including Welsh for the Family.
All courses will be delivered on behalf of the National Centre for Learning Welsh - the new national planning body set up by the Welsh Government to look after all aspects of the Welsh for Adults education programme.
Aberystwyth University is one of 11 providers invited to deliver courses across Wales on the Centre's behalf.
The new structure, which comes into force on 1 August 2016, builds on the important work undertaken previously by the six Welsh for Adults Centres.
Efa Gruffudd Jones, Chief Executive of the National Centre for Learning Welsh, said:
"This is the first time for a national planning body to take responsibility for the Welsh for Adults sector and our aim is clear - to deliver an inclusive service that welcomes and supports learners and new speakers of Welsh.
"I'm looking forward very much to working with Aberystwyth University as we coordinate provision, introduce new resources and provide a central point of contact for all information about learning Welsh."
Dr Rhodri Llwyd Morgan, Pro Vice-Chancellor at Aberystwyth University, said: "Aberystwyth University has been delivering Welsh for Adults courses for many years and we understand the needs of learners in Mid and West Wales. We will be offering an attractive range of high quality courses to meet the various needs, with the aim of increasing the number of people who learn and use the Welsh language.
"We look forward to working closely both with the Centre at a national level and with Carmarthenshire County Council. We will also be working with Ceredigion County Council whose staff will be delivering weekly Entry, Foundation and Intermediate level courses on our behalf in Ceredigion."
Siôn Meredith, Director of Welsh for Adults at Aberystwyth University, said: "The contribution of Welsh for Adults is key to the prosperity of the Welsh language in some of its strongholds in this area, and we will work with our education and community partners to ensure that it is a living language for everyone."
An informal event to launch the National Centre for Learning Welsh will be held at 2pm on Saturday 30 July 2016 at the Maes 'D' Learners' Pavilion at the Monmouthshire and District National Eisteddfod in Abergavenny.