Aberystwyth Robotics Club hosts workshops at Old College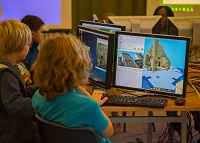 Participants learning how to code in Minecraft and 'build' parts of the Old College
Aberystwyth Robotics Club, alongside researchers from Aberystwyth University, hosted two innovative technology workshops for young people exploring ideas of coding and robotics on Wednesday 31 August at the Old College.
Stephen Fearn from the Aberystwyth Robotics Club said: "It was a technology filled day of fun and discovery, where staff and student ambassadors supported participants as they learnt new skills and took on robotics and programming challenges in the fantastic setting of the Old College."
The Minecraft Workshop was aimed at 9-13 years old who were challenged to build parts of the Old College and learn how to program in Minecraft. Participants discovered more about the building, investigated all the nooks and crannies, looked at the plans and took photos to inform their planning and construction. Participants investigated the programming within Minecraft, which opens up all sorts of possibilities for creative coding. At the end of the day those involved had the opportunity to take part in a 'show and tell' session so friends and family could see what they had built.
The RoboticsWorkshop provided family teams (with a maximum of four people) with the opportunity to build and program NXT Lego Mindstorm robots. Inspired by research into robotics on Mars, with the help of their older relatives the younger participants built remote controlled robots and then programmed them to work more autonomously. Participants learnt about Mars, robots, programming and more.
Dr Hannah Dee, senior lecturer in Computer Science at Aberystwyth University and a member of Aberystwyth Robotics Club said: "These workshops involved playful and creative coding, as well as hands-on building, planning and research. They also involved either Minecraft or Lego, which is always good."