Aberystwyth University hosts science lectures for schools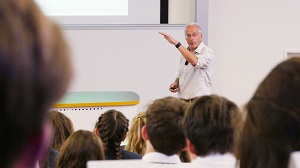 Professor Neil Glasser presenting a lecture
Aberystwyth University will host a new series of lectures for local schools in September 2016 aimed at inspiring the scientists of the future.
The lectures are being organised as part of the 'West Wales Association of Young Scientists' and have been held annually for the past 39 years.
Professor Neil Glasser from the Department of Geography and Earth Sciences at Aberystwyth University will kick off the series with a lecture about 'Climate change, ice sheets, glaciers and sea levels' on Wednesday 21 September.
The lectures are held for secondary school pupils from West and Mid Wales with a total of sixteen schools participating.
Professor Neil Glasser said: "The aim of this series of lectures is to share the research knowledge and expertise we have here in Aberystwyth University with the wider community. We also hope that what these young schoolchildren hear will help shed light on specific scientific concepts as well as inspire them to continue to study science in the future."
The second lecture - 'Seeing colour through animal eyes' – will be delivered on Wednesday 19 October by Dr Roger Santer, a lecturer in Zoology at the Institute of Biological, Environmental and Rural Sciences (IBERS).
The third and final talk on Wednesday 14 December will be delivered by Professor Iwan Morus who will give the Bill Williams Memorial Lecture. The title of his lecture is 'Michael Faraday's Chemical History of a Candle.'
The West Wales Association of Young Scientists was established by Mr A J S Williams, MBE, BSc, Cchem, FRSC and Sir Granville Beynon in 1977. The sponsorship of these lectures is provided by the Institute of Physics and the Royal Society of Chemistry.