Education Secretary visits Aberystwyth University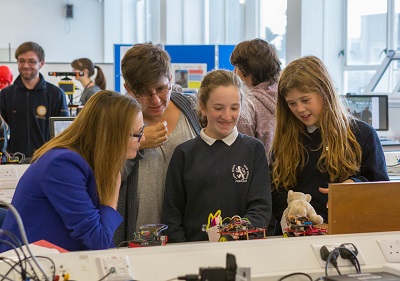 Education Secretary Kirsty Williams visiting the Aberystwyth Robotics Club
The Welsh Government Cabinet Secretary for Education has been meeting staff and students at Aberystwyth University in the first of a series of visits to Welsh higher education institutes.
Kirsty Williams AM was given a short guided tour of campus by Acting Vice-Chancellor Professor John Grattan on Thursday 29 September 2016.
She said she could see why Aberystwyth University had performed well in recent student satisfaction survey.
During her visit, the Minister spoke to students who decided to study for a degree after attending Aberystwyth's flagship Summer University programme which is aimed at widening access to higher education. She also met a group of international and EU students who are studying at Aberystwyth.
"I have spent much of my first five months in post hearing all about the issues facing the education sector in Wales. So I was naturally delighted to get out there today and learn more about life on campus as well as experience fresher's week first-hand," said Ms Williams.
"Aberystwyth was recently ranked best student experience in Wales by the Good University Guide and it's clear to see why, especially at this exciting time of year."
"I was particularly pleased to learn more about the work the university has been carrying out with regard to widening access, giving young people from Wales the opportunity to spend six weeks on campus and experience study in an HE environment.
"Next month we will be launching Wales' tenth Seren hub here in Aberystwyth. Year 12 pupils from across the area will come together, learn together and get valuable support from leaders within the university to ensure they are supported to achieve their academic potential."
One of the highlights of the tour was an introduction to the innovative work being carried out in the Department of Physics for the European Space Agency's ExoMars rover mission in 2020.
Space scientists at Aberystwyth are developing a 'selfie' mirror which will enable the ExoMars Rover to take images of itself if it became damaged, as well as camera calibration targets to ensure images sent back to Earth are a true representation of the natural colours of Mars.
There was also a demonstration of remote-controlled robots by the Aberystwyth Robotics Club, an afterschool club for local teenagers which is led by staff and students.
Kirsty Williams also met Geography Society students and staff from the Department of Geography and Earth Sciences, including Professor Neil Glasser who will be part of an international expedition to Antarctica in January 2017 and Professor Bryn Hubbard who was awarded the Polar Medal earlier this year.
Acting Vice-Chancellor at Aberystwyth University, Professor John Grattan, said: ""We are very pleased that the Education Secretary has been able to visit Aberystwyth University and to see at first hand why this is an exceptional place to learn and live. In the wake of the EU Referendum result and the recommendations of the Diamond review, it was an opportunity to discuss some of the challenges and opportunities facing the higher eduation sector at this time.
"It was also an opportunity to highlight some of the high-quality research and development which is being carried out by academics here in Aberystwyth, including our involvement with the European Space Agency's ExoMars mission and our international expedition to Antarctica in January 2017.
"As an institution, we have placed great emphasis on widening access to higher education through our flagship Summer University programme and some of the students who decided to enrol at Aberystwyth University as a result of their Summer University experience were able to talk to the Education Secretary about their reasons for choosing to study for a degree."
The Leader of the Welsh Liberal Democrats and MP for Ceredigion, Mark Williams, also accompanied Kirsty Williams on her first visit to Aberystwyth University as Education Secretary.