Aberystwyth University celebrates Black History Month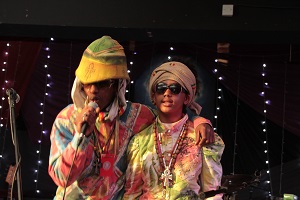 Scratchylus and Empress Reggae who will be performing at the University on 15 October
Aberystwyth University will be celebrating Black History Month with a range of events and activities across campus in October 2016.
A highlight of the celebrations will be a performance by reggae band "Scratchylus and Empress Reggae" who are undertaking a tour across UK Universities to mark Black History Month. Their performance will also coincide with the University's Open Day on Saturday 15 October.
On Friday 28 October, a roundtable discussion on race issues in higher education will be held in the main hall of the International Politics Building. A full list of the panellists will be released closer to the date.
Information on a range of other topics will also be displayed on all campuses during October.
Black History month is an annual event, which began in America, to reflect on the history and culture of black people and its impact in countries throughout the world. It is celebrated in October in the UK, where it began in 1987, and there will be over 6000 events throughout the Britain this year. It marked its 90th anniversary in America, in February 2016.