Exhibition marks BIG achievements for Aber Tutor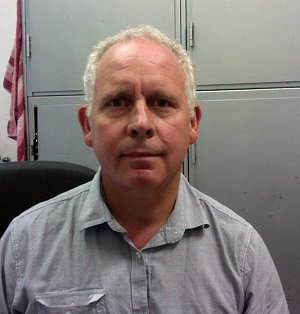 Andrew Baldwin
A pioneering non-toxic printing process invented by a member of staff at Aberystwyth University's School of Art and now used worldwide will be showcased in a special exhibition in autumn 2016.
Senior technician and tutor Andrew Baldwin began making etchings in the mid 1980s. Fascinated by the process he worked extensively within the medium but over time he found the process was having a detrimental effect on his health - a common problem for printmakers using traditional, toxic etching materials.
Keen to find a solution, he began to explore alternative, less harmful materials and eventually this paid off as he produced his own non-toxic etching ground, BIG (Baldwin's Ink Ground).
"Not to be confused with its more commonly understood cousin of industrial printing, fine art printmaking is steeped in tradition, and therein lies the problem," explained Andrew.
"Safer alternatives over the years have lost out to tradition, due to several important factors, including the quality of the etch.
"My drive to discover safer, less harmful resources and methods was fuelled by concerns for my own health, the health of my students and wider concerns for the health of the environment. Little did I realise when I developed these safer alternatives that they would lead me to travel the world meeting like-minded artists, passionate about printmaking and environmental issues."
Fifteen years ago, Andrew introduced his revolutionary formula to students at Aberystwyth's School of Art. Since then, he's travelled the world promoting and demonstrating the product to students of art and professional printmakers.
His product proved so popular, it's now widely used by printmakers as far afield as South Korea, Colombia, Australia and North America and is sold by leading printmaking suppliers both in the UK and USA.
Andrew also has a successful career as a printmaker, contributing to notable exhibitions at the Mall Galleries, London, St. David's Hall, Cardiff, and Arizona. In 2006 he received the Most Exceptional Artist Award by the Federation of British Artists and in 2007, the Welsh Artist of the Year Award in Printmaking.
His upcoming exhibition 'Breaking New Ground' opens on 10 October and runs until 18 November 2016 at the Aberystwyth School of Art. It showcases the diverse ways in which he and other etcher-printmakers from all over the world have used the BIG solution (Baldwin's Ink Ground). Admission is free and all are welcome.