New Knowledge Centre for International Politics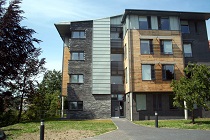 Aberystwyth University's Department of International Politics
Aberystwyth University's Department of International Politics has launched a new Centre for the International Politics of Knowledge.
The Knowledge Centre will concentrate on developing research in two distinct but highly inter-related areas of work. One is Knowledge Production, Expertise and Evidence in International Politics while the other looks at the History, Philosophy and Sociology of Knowledge, Science and Technology.
Dr Berit Bliesemann de Guevara is Co-Director of the Centre for the International Politics of Knowledge and believes that the new Centre has an important role to play,
"Analysing what is seen as a policy problem in International Politics in the first place, why problems and solutions are understood in specific ways, and whose interpretations dominate our imagination is indispensable for understanding the political world in which we live. Here at Aberystwyth we have always strived to ensure people have a greater understanding of the issues that affect us on a daily basis.
"However to do that we also need to understand how national policymakers and international organisations use expertise and scientific knowledge as well as how science and technology have impacted on our political understanding of the world.
"This new Centre will conduct research to understand what happens when academia and politics converge, when knowledge is exchanged, and give us clues about the possibilities and limits of informing future policy development."
The Centre was launched on Wednesday 5 October 2016 in the Intenational Politics building on Aberystwyth University's Penglais campus. Aberystwyth's Department of International Politics is the oldest of its kind in the world and has just welcomed its latest cohort of students who will graduate in the Department's centenary year, 2019.